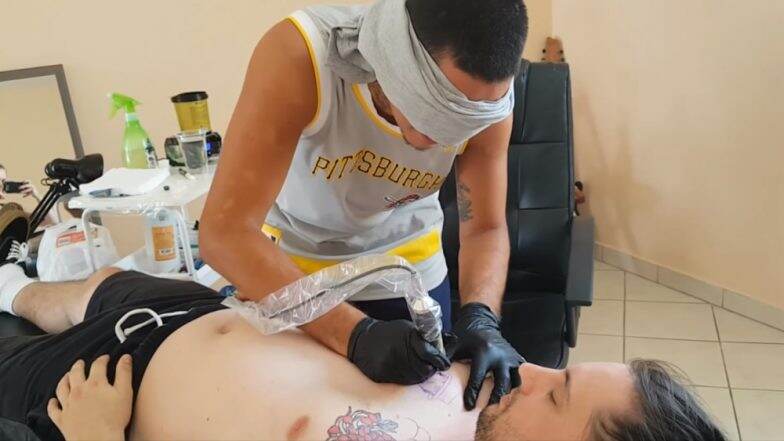 Netflix may have warned fans against attempting the #BirdBoxChallenge, but seems people are no mood to listen. In yet another attempt of Bird Box Challenge, a tattoo artist in Brazil tried working on a client while being blindfolded. The failed funny video has gone viral with internet users who can't stop laughing at the tattoo attempt.
After the movie 'Bird Box' released on Netflix on December 13, inspired by the female protagonist in the movie, Sandra Bullock, fans began to blindfold themselves and resulting in walking into walls. As videos of people doing the weird challenge went viral, Netflix took to Twitter advising people against attempting it.
Netflix tweeted saying, "Can't believe I have to say this, but: PLEASE DO NOT HURT YOURSELVES WITH THIS BIRD BOX CHALLENGE. We don't know how this started, and we appreciate the love, but Boy and Girl have just one wish for 2019 and it is that you not end up in the hospital due to memes." Hilarious Bird Box Memes Go Viral Even As Netflix Scrambles to Stop The Dangerous #BirdBoxChallenge.
The artist can be seen trying to imprint a fan's face but with disastrous results. The duo laughs and hardly manage anything close to the desired result. After much efforts, the artist finishes his work which does not have many similarities with what was required. Fortunately, nobody was harmed and the attempted ended quickly with a bad tattoo on a man's chest. The video was recorded in Blumenau, Santa Catarina on Saturday.
Watch the video below:
Earlier, a blindfolded girl from Utah crashed her car into a pickup truck while attempting #BirdBoxChallenge. While there were no injuries, the car was in a bad state.
Bird Box is a post-apocalyptic psychological thriller, directed by Susanne Bier where Sandra Bullock plays a mom to two children. People wear blindfolds to avoid seeing a mysterious creature that brings in suicidal tendency in people. The movie shows Sandra and her children going through difficult terrain with the blindfold on. They travel carrying birds with them in a box as they can sense the creature coming close to them and start chirping heavily.