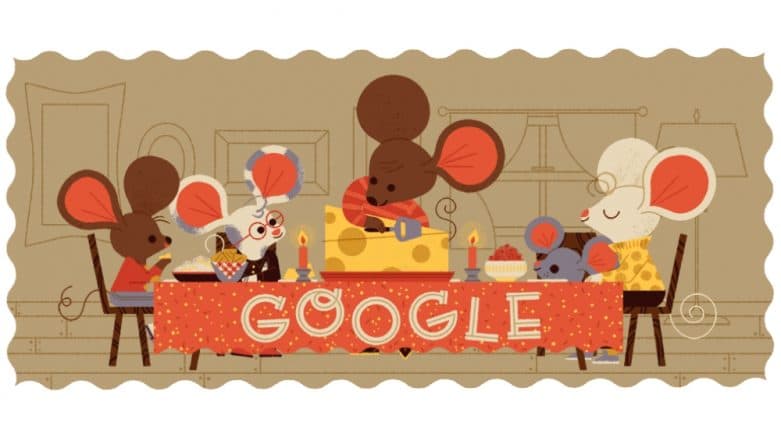 Holidays and food, two of universally loved things is associated with Thanksgiving. Amazing, isn't it? One of the most loved festivals celebrated on different dates in different countries falls on November 22, Thursday in the United States. And as Americans begin with their long and fun-filled winter holidays, search engine giant Google decided to make their day even more delightful with a cute doodle. Wishing its users, a Happy Thanksgiving Day 2018, the fun and dynamic Google doodle shows a family of mice having a gala time at a dinner table. It truly captures the essence of holidays, traditional Thanksgiving family gatherings and of course, feasting! Thanksgiving 2018 Quotes for Instagram Photo Caption: Inspirational to Funny, These Happy Thanksgiving Day WhatsApp Sticker Image Wishes Are Worth Sharing.
The tradition of celebrating first Thanksgiving dates back to 1621 between the Pilgrims and the Wampanoag at Plymouth in present-day Massachusetts. The national holiday is observed as a day to express gratitude and be thankful to the Almighty for the harvest and of the preceding year. Yes, Thanksgiving is originally a harvest festival, when people give thanks at the end of the harvest season. Families, neighbours, friends and just about every near and dear one come together to celebrate this special occasion. Just like you can see the adorable family of four mice in the Thanksgiving Google Doodle. Happy Thanksgiving 2018 Wishes & Photos: Best WhatsApp Stickers & Messages, SMS, Facebook Status, GIF Image Greetings to Express Gratitude to Your Loved Ones.
As we mentioned above, Thanksgiving dates differ from country to country. If Americans celebrate it on the fourth Thursday of November and Canadians, observe it on the second Monday of October. However, the celebrations especially the traditional Thanksgiving dinner sees the large bird, turkey recipe as its main dish. In the side dish, you will find mashed potatoes, stuffing, minced meat pie, fruit cake, and cranberry sauce. In non-traditional Thanksgiving dinner, turkey is replaced by ham, duck or goose meat. Thanksgiving 2018 Recipes Other Than Turkey: Easy-to-Make Tasty Dishes For Your Thanksgiving Dinner, Watch Videos.
Apart from food, the day also witnesses grand parades most prominent one being the Macy's Thanksgiving Day Parade, which is held annually since 1924 on every Thanksgiving Day from the Upper West Side of Manhattan to Macy's flagship store in Herald Square. The live streaming of Thanksgiving Parade that includes performances by Broadway musicals, giant balloons of cartoon characters and marching bands are live telecast by National Broadcasting Company (NBC). Thanksgiving is indeed an exciting time with festive fever gripping the country. We wish everyone a very Happy Thanksgiving Day 2018!