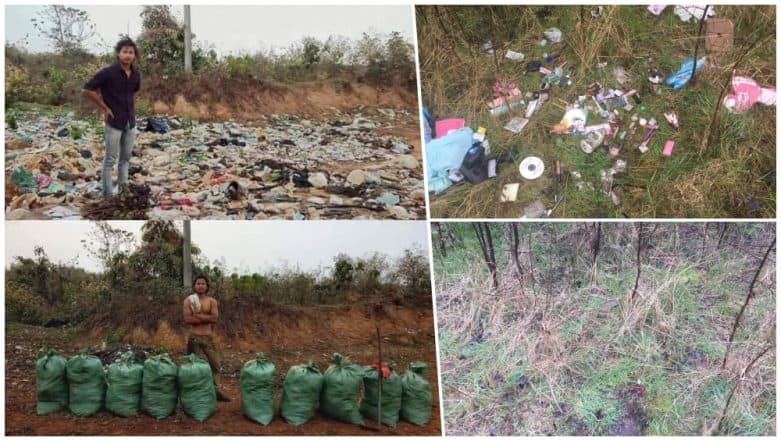 Social media challenges have become the next in thing today. Every few days we have a new one coming up. While not all of them are healthy or serve just the purpose of entertainment, the newest challenge on the internet, maybe just the change we needed. Called the #Trashtag Challenge, it actually asks people to make this world a cleaner place. The idea of #trashtag challenge is to clean a littered place and post pictures of the good deed. Within a few days, the trend has caught on and people all over the world are enthusiastically participating in this clean-up. It is indeed a positive social media challenge, that we needed to see. Forget Kiki and Momo Challenge, Here are 5 Positive Social Media Challenges You Should Actually Take Up.
The first use of the trend #trashtag was done back in the year 2015. But it resurfaced online when a Facebook post was directed at bored teens, asking them to be a part of this #Trashtag Challenge. It got almost a new life as many youngsters joined along with more than 25,000 posts already on Instagram alone. Netizens took up the challenge in good spirit and began cleaning the littered places that needed a makeover. People from all over the world and participating and are doing their bit for the environment. Challenging Momo Challenge? Netizens Share Positive Memes With Scary Girl Image to Reverse Negative Effect of Suicide Game.
Check Pictures of #Trashtag Challenge
Entry From Nepal
#trashtag seems to be trending. This one's from Nepal 🇳🇵 pic.twitter.com/stAxbQXhup

— Kelllvvviiinnn (@kelllvvviiinnn) March 9, 2019
Students From Dimapur College Took Part as Well
View this post on Instagram
Potomac River in Washington DC
Along the Potomac River south of Washington, DC #trashtag pic.twitter.com/n2uPL52LZG

— Robbie McNeil (@RMcNeil2105) March 10, 2019
Park cleaned up!
Before and after. Makeup and clothes dumped near Moston Brook, now cleaned up 😀#litterpick #TrashTag pic.twitter.com/9GsFIUORaI

— Moston Litter Picker (@AJDelusion) March 11, 2019
Mexican Community Getting Together
Hey @camerondallas the community in my home town in Mexico got together and cleaned up garbage #TrashChallenge #TrashChallenge #trashtag pic.twitter.com/hk9kNTVmSZ

— GermanG (@ger__mann) March 11, 2019
Doing it as a Birthday Thing
Decided to pick up trash for my birthday and filled up 4 bags #20 #trashtag pic.twitter.com/EHl12o6aT5

— City Dave (@daavidcabrera_) March 10, 2019
Making a Difference
View this post on Instagram
It is indeed a positive social media challenge that has flooded the internet. With people from all over the world coming together in a cleanliness drive, it is a change the environment beckons. We have done enough of waste that somehow remains unattended and such challenges only reinstate the idea of making this world a cleaner place. Have you taken part in the #TrashtagChallenge yet?