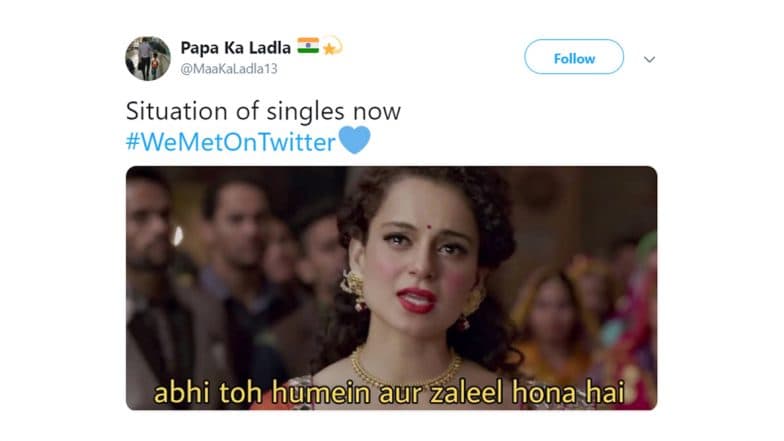 Twitter is in a lovey-dovey mood today! #WeMetOnTwitter is trending with people sharing how they met their SOS via this social media platform. But guess what's more interesting than the stories? The singles online have come up with the best memes and jokes to deal with the "attack" on Facebook, and that, my friend, is better than anything on Twitter, rn. Let's admit it, sharing your perfect love stories on how you met your romantic partner on Twitter can be tragic for all the singles who are probably sobbing in one corner of their rooms today. Have you thought about that? No, because you only think about yourself! Funny Backbenchers Memes and Jokes Are Bringing Back School Memories; Twitter Won't Let Go off the Meme Trend.
But single have their ways straight, and they know how to channelise their inner sadness via funny memes and jokes. Here are some of the hilarious jokes and memes that singles are sharing on Twitter:
Situation of singles now #WeMetOnTwitter pic.twitter.com/kwSSfk2sR9

— Papa Ka Ladla 🇮🇳💫 (@MaaKaLadla13) September 18, 2019
STAPPPP!
When everyone tweet about #WeMetOnTwitter

Le* me :- pic.twitter.com/tKfxst0RfQ

— pagal priya💝 (@tujhse_matlb) September 18, 2019
On Behalf of All Singles
Me and my lonely ass after seeing this hastag is still trending #WeMetOnTwitter pic.twitter.com/5Rb4shcg3j

— Ms. Buffay (@greysky000) September 18, 2019
This is Outrageous
Me watching 15 y/o nibbas n nibbis tweeting about#WeMetOnTwitter

I'm still single now.

Me to tweeter : pic.twitter.com/aEgKZWUc4x

— Bhushan Kamble (@Bhush_Handsome) September 18, 2019
*Crying Continues*
*Me watching #WeMetOnTwitter * pic.twitter.com/HMVsKyB2Gc

— Kalyani Gaikwad 🇮🇳 (@kalyanirgaikwad) September 18, 2019
LOL
Iam not one of those who got someone on Twitter...😂😂😂😂#WeMetOnTwitter pic.twitter.com/PKGSJnPXN5

— reality_explained (@reality_xplaind) September 18, 2019
Ghar Chod Ke Ja Raha Hu...
Singles to Twitter : Am i a joke to you! ?#WeMetOnTwitter pic.twitter.com/clw3ZTQBFW

— Prathap Saakar (@PrathapSaakar) September 18, 2019
Am I a Joke To You?
Everyone is posting "#WeMetOnTwitter

Mean while singles: pic.twitter.com/k5Yw8voHF8

— Ahmad ShEikh🇵🇰 (@sheikh00_ahmad) September 18, 2019
Me, RN
After seeing #WeMetOnTwitter

Me: pic.twitter.com/lvPxfcsutV

— Millenial Deepak Chaurasiya (@dalal_chaursiya) September 17, 2019
Seh Lenge
When people starts tweeting #WeMetOnTwitter stories

Singles like me : pic.twitter.com/F92ZuEE9gl

— 𝕯𝖎𝖕𝖆𝖓𝖘𝖍𝖚 𝕽𝖆𝖙𝖍𝖔𝖗𝖊 (@DipanshuR07) September 17, 2019
SMH
Me seeing people tweet #WeMetOnTwitter on Twitter pic.twitter.com/DNwA7Xvlr4

— Vivekananda Virupaksha (@Vivekananda__) September 17, 2019
ROFL
After reading a #WeMetOnTwitter tweet and you try to slide in the DM 😂😂😂😂 pic.twitter.com/noEEypapgg

— The Ignited (@igniteivan) September 13, 2019
Well, there is nothing much we can do about it but LOL at these funny memes and jokes. Recently, the 'WiFi Drops by One Bar' meme trend took over the internet. The memes are all about how when the video quality on streaming apps goes for a toss. The pixelated screen is very annoying to look at right? So netizens have made funny collages on the quality drop after the WiFi goes down.