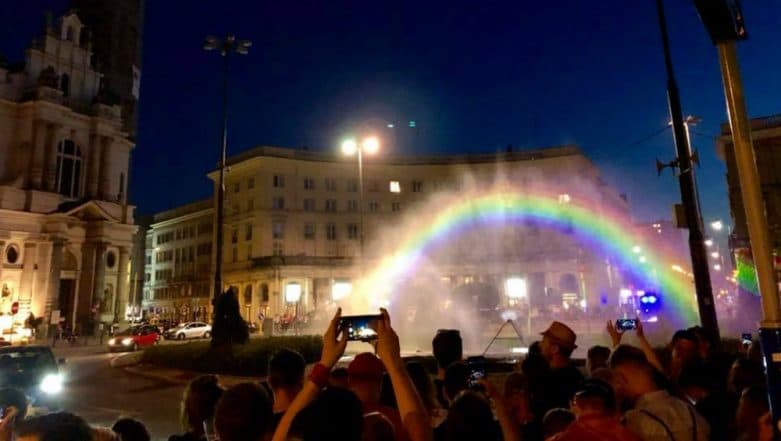 The capitals of Poland and Romania hosted festive gay pride parades, attracting many people on June 9. Encouraged participants took a vow to keep pushing for the ultimate freedom to marry the person of their choice as they walk on Warsaw. A delighted atmosphere prevailed in Warsaw as individuals waved rainbow flags and danced. And Poland's LGBTQ rainbow sculpture returns and have been unveiled in a new form by the Gay rights groups. The "unbreakable" rainbow installation has replaced the original one that suffered repeated attacks from anti-gay agitators.
The previous rainbow was built in 2012 in Zbawiciela Square, Warsaw was burnt down frequently. This time, it came back in an indestructible form as a projection on a fountain. The new rainbow lights up the busy joint in the city and it is formed of a water hologram. Its makers hope that it will not suffer the fate of its ancestors and will be "an unbreakable symbol of love, peace, LGBT rights and equality."
View Pics of Poland's LGBTQ Rainbow!
a 2012 art installation of a rainbow in support of the lgbt community in warsaw was repeatedly burnt down vandalized and eventually stripped down only to make a comeback for 2018 pride parade as a literal rainbow so it's indestructible and here to stay gay science is so powerful pic.twitter.com/SA7gFswjsq

— lotion's 8 (@daddypauIson) June 8, 2018
Reportedly, the old rainbow was made of artificial flowers and was stripped down in 2015 after it was set on fire in series of up to seven continuous attacks. Since then, it became a symbol of the battle for gay rights in Poland. Individuals supporting gay rights are delighted to see the new rainbow installation on the eve of Warsaw Pride and this cannot be killed by fire. Polish law is very strict, and it still defines marriage as a union between a man and woman; hence any attempt to introduce same-sex marriage is termed as unconstitutional.