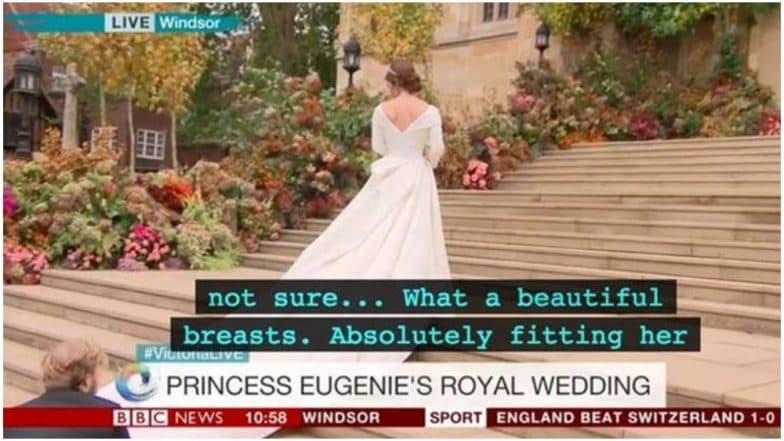 Britain's Princess Eugenie got married to Jack Brooksbank at the Windsor Castle on Friday. The royal wedding like any other in England was a star-studded affair. Fans of the royal family and others were equally glued to their television screens to see the wedding live, when a blunder happened.
As the Princess of Yore walked up the stairs to St George's Chapel inside Windsor Castle with her beautiful wedding gown flowing behind her, BBC made a noticeable gaffe in the subtitles shocking viewers. Royal Wedding Pictures and Videos: Princess Eugenie and Jack Brooksbank Exchange Vows in Front of Royal Family and Celebrity Guests.
Mistaking the word "dress" for "breasts" their subtitle read, "What a beautiful breasts. Absolutely fitting her." BBC News 24 broadcast presentator was detailing her Peter Pilotto bridal gown when the error occurred. Social media users who noticed the slip was quick to point it out on Twitter. Princess Eugenie Shows Off Her Scoliosis Surgery Scar in Royal Wedding Dress! Know All About the Medical Condition of the Spine.
Here are some of the Twitter reactions:
BBC Subtitles Department been on the Pinot early again... pic.twitter.com/UfSMOiyWxn

— Kenny Onions (@Kenny_Onions) October 12, 2018
The subtitles misunderstood the word?
As Eugiene left the car a presenter said "what a beautiful dress."

Unfortunately the subtitles said "What a beautiful breasts."

(h/t @Ollie_Bayliss) pic.twitter.com/mZx53KUaaP

— Scott Bryan (@scottygb) October 12, 2018
Twitter had a laughter riot as the picture went viral.
Loving the fact that BBC subtitles isn't getting the words right and is calling Princess Eugenie "Princess EU Genie"

— 🎃 Simon 🎃 (@TheSimonC90) October 12, 2018
Well, not really, it was not a human error.
Shout out to the BBC captions guy who is about to lose his job....#royalwedding #subtitles https://t.co/oMPOZvZNrw

— Lottie Garton (@LottieGarton) October 12, 2018
Hahaha, but it was not a typing mistake
You had just ONE JOB! Lol https://t.co/stxfXW6QXA

— James George Johnson (@jamesmosaicman1) October 12, 2018
As Twitterati had a great time making jokes out of the flaw, BBC said that the mistake was not a human error but the result of a software. HuffPost quoted a BBC spokesperson as saying, "Our live subtitling service produces accuracy levels in excess of 98% but, as with all broadcasters, there are instances – particularly during live broadcasts – when mistakes happen. On this occasion, the voice recognition subtitling software made an error."
Princess Eugenie and Jack Brooksbank's wedding was watched over by Queen and Prince Philip along with other royal family members. Over 850 guests, including over 40 royals and several celebrities also attended the wedding.