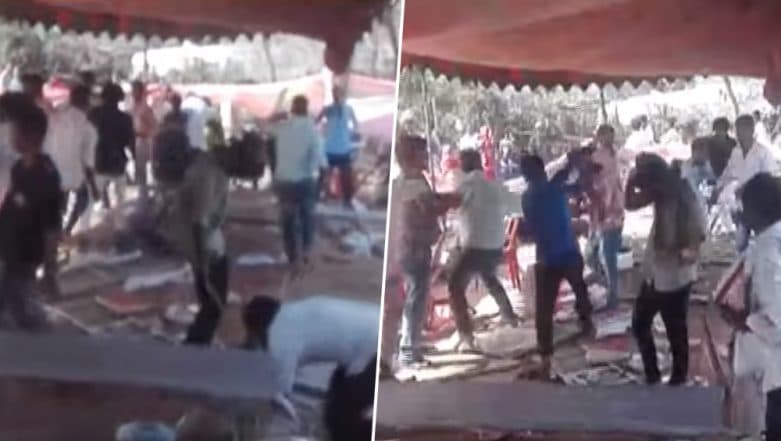 A wedding feast in Telangana turned into a dirty scuffle over food. The bridegroom's family was expecting mutton to be served but instead, there was chicken. The groom, Praveen's family became furious and began shouting at the bride Kumari's family. A verbal fight soon turned physical with chairs being thrown at each other. Video of the incident going viral on social media shows two groups of people throwing chairs at each other inside a colourful makeshift tent arranged to serve food for the guests.
Some women can be seen trying to stop the men from fighting, but their efforts go in vain. Some of the men even bring in sticks to hit at their rivals. They can be seen jumping over benches, breaking some only to throw chairs at the other group. Watch Video: Delhi Wedding Turns Into WWE Match, Fight Erupts Over Quality of Food.
Reportedly over 100 chairs were damaged in the ugly brawl between the two families. The incident injured eight people who had to be rushed to a nearby hospital, where again they pushed each other. Following which both the parties approached the police and filed complaints against each other. Guests Fight Over Shortage of Plates at a Wedding Ceremony in UP! One Dead, Four Injured.
Watch the video below:
A similar incident happened at a wedding in Ludhiana, Punjab last year when they ran out of food. A clip which was shared widely on social media showed men passed out on chairs and floors in between broken furniture and plates. At the wedding, a free bar was open, but there was not enough food which angered the guests. These incidents of substandard behaviour at weddings have been severely criticised on social media.