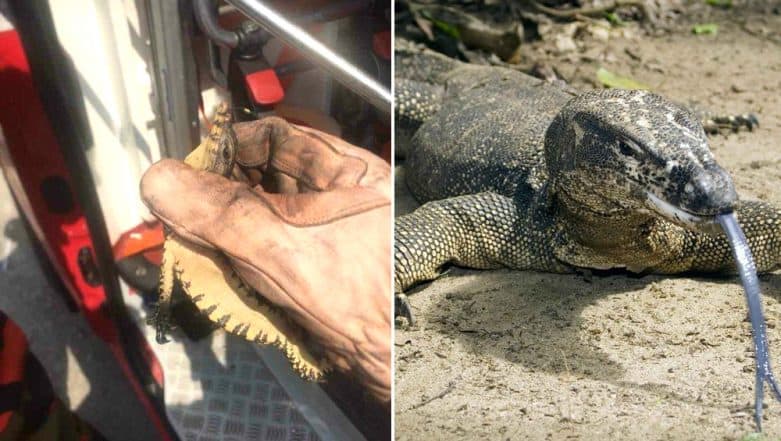 It is the duty of the firefighters to attend to the emergency calls as quickly as possible. But many times these complaints are also bizarre. The recent experience of one such funny complaint, if we could call it, came in for the rescue of a 'huge monitor lizard.' The Malaysian Fire and Rescue Department personnel hurried when a distraught woman called them about a huge monitor lizard in her house. These large lizards are native to Africa and it was a little weird how one would end up in a house. But it was their duty to respond to the call and the team rushed to the spot. Australian Lizard's Bright UV Tongue Scares Away Predators; Watch Video of Electric Blue-tongued Skink! 
The woman was so worried that she went to her neighbour's house to make the call. The team was prepared to tackle a large wild lizard but it was too disappointing when the apparently huge monitor lizard turned out to be a small gecko. It was not even larger than the official's thumb. The described monster lizard turned out to be a small lizard. The incident was shared on Facebook and netizens were not too happy about the woman complainant. New Guinea's Green-blooded Lizards; Its Blood is Toxic Enough to Kill Humans! 
Take a look at the lizard that was caught by the firefighters:
The firefighters' crew came in along with their engine all equipped for the rescue of the wild lizard. But when the officer rushed into the house, he could easily catch the lizard in his two fingers. The other officers then went back to the station. People online have slammed the woman for wasting the time of the firefighters. Some of them commented she should get back to learning about reptiles.