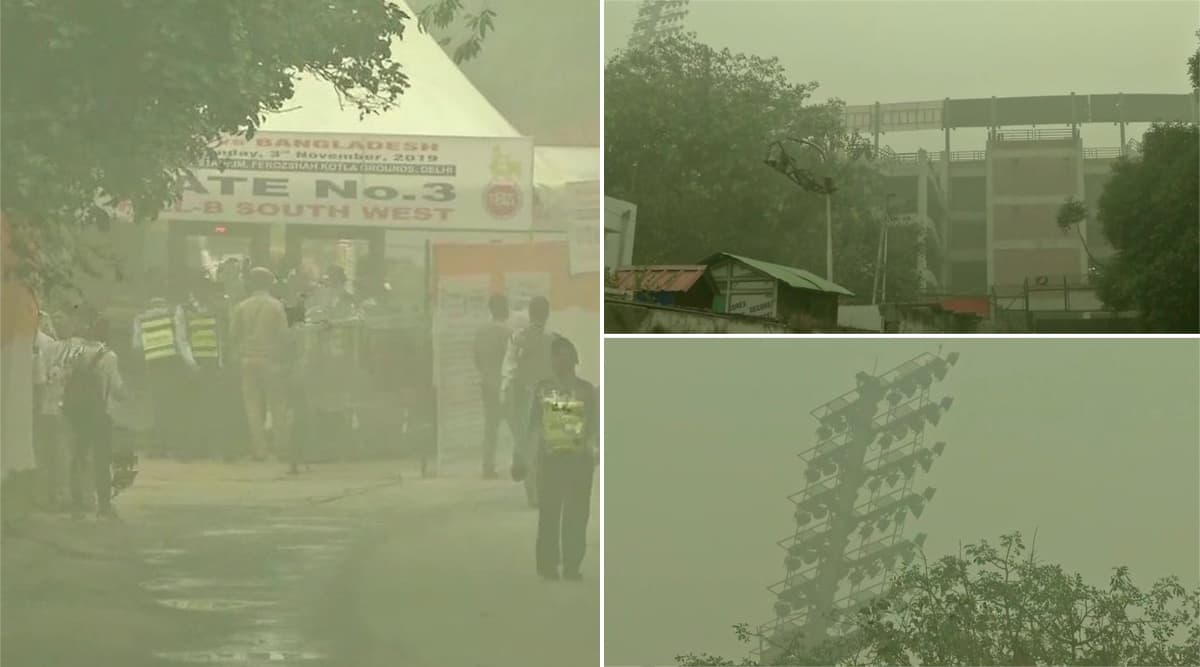 India's opening T20I encounter of a three-match Twenty20 series against Bangladesh have come under the scanner with reports claiming that the game at the Firoz Shah Kotla Ground in Delhi might be called off any time especially with the Air Quality Index (AQI) in the city hit an all-time low. The threat that the game might be called off anytime has been looming around once the air pollution crossed limits post-Diwali and a thick smog shrouded the city. But the threat of the game being abandoned has now come under serious consideration once the AQI in the city went down to 164 – an all-time low – affecting visibility to add to the sore throat and burning eyes. Reports claim that the match referee Ranjan Madugalle might call the game off if the surroundings don't improve. IND vs BAN 1st T20I 2019: DDCA Keeps Fingers Crossed as Visibility Gets Worse Ahead of India vs Bangladesh Match at Arun Jaitley Stadium.
Amidst a thick cloud of smog plummeting the city, Delhi witnessed rain early on Sunday morning which has further worsened the conditions. The visibility is already low and with more rain expected things are bound to get worse putting the match under threat of being called off without even the toss taking place. According to a report from ABP News, match referee Madugalle will take a call sometime before the toss depending upon the visibility levels. The final decision is set to be taken at 06:30 pm IST (Indian Standard Time) just moments before both the captains walk out for the toss. Twitterati Urge Authorities to Cancel IND vs BAN T20I Match Due to Poor Air Quality.
India vs Bangladesh 1st T20I in Delhi Under Threat
Delhi: Latest visuals from outside Arun Jaitley Stadium. India will play Bangladesh in the first T20i match, later today. pic.twitter.com/KehNVZ1Zd1

— ANI (@ANI) November 3, 2019
"Contrary to the belief that showers on Saturday would have helped settle things down, today is the worst of the lot. The eyes are hurting and visibility is at an all-time low. Hopefully, the sun does come out and the smog settles else it will be very difficult to get the match going. We are helpless in such a scenario and can only pray that the match happens," a senior DDCA official was quoted as saying by Crictracker.
The call has to be taken by the match referee and he will consult the umpires. They can also check with the ground staff to decide on the fate of the match if the condition stays the way it is. But then again, you never know with the weather and things could change in the evening. But if you go by the current scenario, things are a little grim to be honest," the official added.
Air traffic in Delhi Airport has also been affected due to low visibility with reports stating that as many as 32 flights were diverted. News agency ANI reported that "Air pollution levels in the national capital escalated to hazardous and visibility dropped significantly as a thick blanket of smog engulfed several parts of the city on Sunday morning. Notably, for the first time in this season, the Air Quality Index (AQI) docked as high as 625 at 10 in the morning despite light drizzles in the early hours."