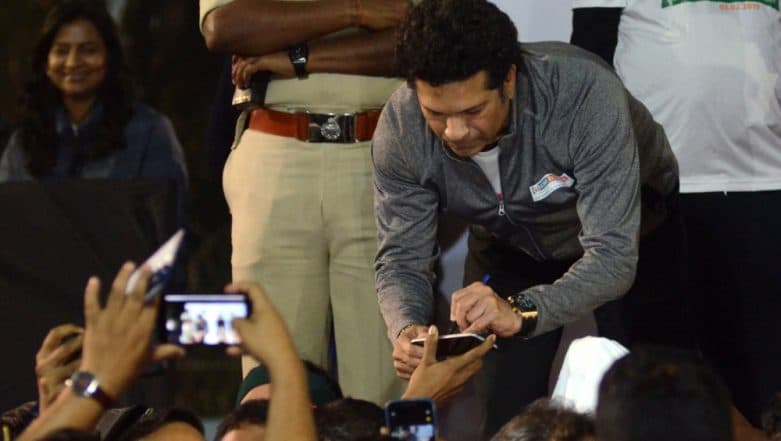 Cricket legend Sachin Tendulkar did push-ups as part of an initiative in New Delhi through which money will be donated to 'Bharat Ke Veer' contribution platform. The former cricketer joined thousands of participants who took part in the National Marathon Championship in Delhi recognised by the Athletics Federation of India (AFI). Before the flag-off of the marathon, a two-minute silence for fallen soldiers of Pulwama terror attack was observed. Sachin Tendulkar Bats For India vs Pakistan in ICC Cricket World Cup 2019, Says 'Would Hate to Give Away Two Points'.
Speaking at the event, Sachin said, "Whatever will be the fund that we receive from here, it will all be donated for a good cause, a bigger cause. It will be donated to the families of the martyrs. I am sure you understand the feelings and hope everyone joins us in this movement," Tendulkar said.
Tendulkar later shared the video of him doing the push-ups. The caption of the video shared on social media read, "we made a difference & all it took was 10 push-ups. Thank you for infusing that extra energy by participating in the #KeepMoving Push-up Challenge at the @idbi_fli_newdelhimarathon & helping us contribute to the Bharat Ke Veer Fund. Delhi, you truly delivered! #keepmovingdelhi."
Here's the video shared by Tendulkar
Tendulkar also flagged off Marathon at the Jawaharlal Nehru Stadium. The New Delhi marathon is being organised in four categories - 42.195 km long full marathon, 21.095Km long half marathon, Timed 10 Km run and 5 Kilometer long Swacch Bharat Run. Sachin Tendulkar Wants Two Points Against Pakistan, Sourav Ganguly Wants the ICC Cricket World Cup 2019.
According to the organisers, nearly 18,000 people are taking part in the marathon across all categories. As many as 2,000 runners are taking part in the full-marathon which was the first one to be flagged-off, followed by Half-marathon with nearly 6,000 participants and approximately 5,500 people and 4,500 runners in the Timed 10K and Swachh Bharat run, respectively.
(Inputs PTI).