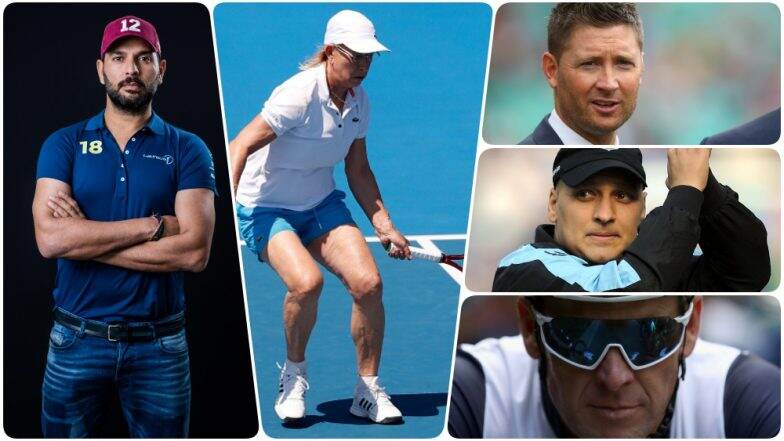 Cancer is a deadly disease which has had its fatal impact on the human lives for years now. February 4th every year is a day dedicated to raise awareness about cancer and also stand in solidarity with people suffering from this vicious illness or those who have overcome it in the form of World Cancer Day. It is hard to comprehend that the human cells which are the basic building block of life can alter in such a way that it brings upon so much pain and suffering. With the advancement of science, the medication for cancer may have gained a lot of ground but there is still a feeling of helplessness for the majority of cancer patients. World Cancer Day 2019: From Actress Sonali Bendre to WWE's Roman Reigns, Celebs Who Battled Cancer in The Last Year.
Athletes are meant to be the fittest blokes on the planet but the random nature of cancer means they are not spared too. We have lost several sports stars to this deadly disease but there have been those odd happy endings too. On World Cancer Day, we bring you the success stories of a few competitors who have won over cancer.
Martina Navratilova
Tennis legend Martina Navratilova inspired many budding players with her gritty displays on the court. The multiple time grand slam champion in both singles and doubles tennis, Navratilova was diagnosed with breast cancer in 2010. A non-invasive form of ductal carcinoma in her left breast was the main cause of the athlete's troubles. She first underwent lumpectomy and this was followed by radiation therapy to make sure the cancer cells were killed on a permanent basis. The effects of radiations made her low on energy but after a six-month treatment, Martina Navratilova triumphed over cancer.
Stiliyan Petrov
Bulgarian and Aston Villa legend Stiliyan Petrov did not let the opposition dictate the tempo of the game when he was on the field. His leadership quality was admired by one and all and he went on to captain Bulgaria and his club Aston Villa. After a game against Arsenal where his side lost 3-0, Petrov took ill. He was diagnosed with acute leukaemia and with an year Petrov had to quit football in order to concentrate on his recovery.  After a 5 year ordeal, Petrov made a full recovery. During one of the interviews, the former footballer who made 105 appearances for Bulgaria spoke about the effect his treatment had on his two children who saw their father struggling. He also had his immune system take a beating due to the therapies but his wife was a rock through all this and helped him beat death. Stiliyan Petrov is currently focussed on a career in management.
Yuvraj Singh
Indian cricket legend Yuvraj Singh who helped Indian lift the 2007 T20 World Cup and the 2011 World Cup had stage 1 Lung cancer detected in 2012. It is said the signs of the carcinogens were there in the 2011 World Cup itself but Yuvi continued to play through the sufferings in order to help his country lift the trophy. He went to USA to begin with, the cancer treatment which was in the stage 1 category. The chemotherapy sessions bore fruit as Yuvraj Singh completely eliminated the troubled cells from his body. He made a comeback into the Indian team post the recovery and became an inspiration for many with the fighting spirit he displayed.
 Michael Clarke
Former Australian skipper Michael Clarke suffered from low-grade skin cancer and had to miss a few months of cricket in 2006. Clarke underwent an operation for removal of cancer patches from his nose and lips. It was one such patch on his nose that had led to the detection of this deadly disease of melanoma. He had to give up his baggy green and take up a hat for the rest of his career in order to protect his skin. The champion cricketer did not let this episode harm his career in any way and went on to the captain his country to a World Cup triumph in 2011.
Lance Armstrong
Lance Armstrong was detected with stage 3 Testicular cancer back in 1996 and the extent of the disease was such that it had spread his brain, lungs and abdomen. The Tour De France legend who admitted to doping which led to a massive fall from grace. But his ordeal with cancer and will to defeat death is a stuff of legend. He underwent a string of chemotherapy sessions at Indianapolis, a cocktail of drugs and surgery. He overcame cancer in February 1997 after a remarkable fight against this deadly disease where he put everything on the line. He set up the Livestrong foundation in 1997 to help support people affected by cancer.
These remarkable stories instil in us a confidence that however deadly a disease cancer is if we show a tremendous will to survive coupled with timely medication, it can be defeated.