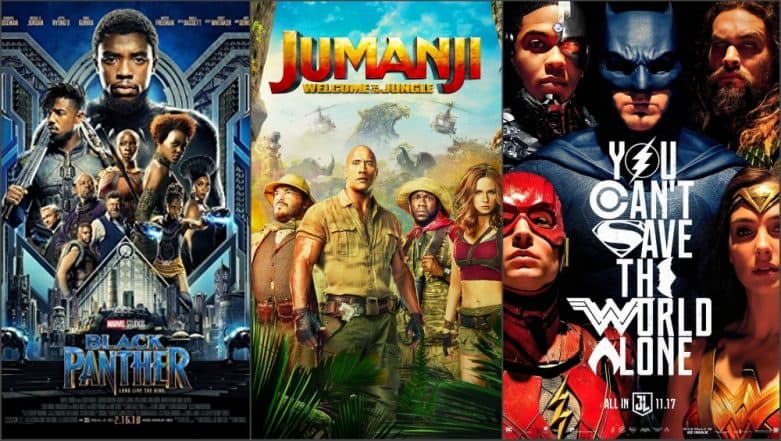 In a few days, 2018 will come to an end, and we all will be welcoming the New Year 2019. And as is the case every year, December is dedicated to taking a recap of the year. Google Play, a digital distribution service operated and developed by Google Inc. released its 'Best of 2018' list, and it includes everything from books to movies, apps to games. We had brought to you the list of books who won top ranks in the Google Play User's Choice Awards in detail. And now, it is time to have a look at the best movies of 2018. There are few surprises, both pleasant and shocking ones. Google Play Best Books of 2018: Know Top 5 Most Downloaded Books of This Year on Play Store.
Superhero movies dominated the year with films such as Avengers: Infinity War, Black Panther, Justice League, Venom, Ant-Man and the Wasp, Incredibles 2, Spider-Man: Into the Spider-Verse, Deadpool 2, and many more. These movies ruled the box office and how. Disney and Marvel Cinematic Universe (MCU)'s Avengers: Infinity War collected more 2 billion USD with Black Panther being not far behind. In fact, when it came to critical reception, Ryan Coogler's Wakandan superhero earned more accolades. It is no surprise Black Panther takes the top spot of Google Play User's Choice Awards 2018 – Best Movie category. Let us look at all of them. Google Play Best Apps of 2018: Google Pay & Tik Tok Wins User's Choice App and Most Entertaining App Titles. 
Black Panther: MCU introduced the franchise's first black superhero in Captain America: Civil War in 2016. It was Black Panther aka T'Challa. American actor Chadwick Boseman portrayed the character. Two years later, Black Panther returned with his own standalone film and it created history. With a fantastic support cast in form of Michael B. Jordan, Lupita Nyong'o as Nakia, Danai Gurira as Okoye, Winston Duke, Daniel Kaluuya as W'Kabi, Letitia Wright, and Martin Freeman, Black Panther is rightly the best movie of the year.
Jumanji: Welcome to the Jungle: When the sequel of Robin Williams-starring original Jumanji was announced, fans were very sceptical. And they had a reason to be. After all, who can recreate the magic of great actor and comedian? But Dwayne Johnson's Jumanji: Welcome to the Jungle received an overwhelming response from the audiences. Jake Kasdan-directed film also starred Jack Black, Kevin Hart, Karen Gillan and Nick Jonas in pivotal roles.
Justice League: A surprising inclusion in the list of 'Best Movies 2018' is DC's Justice League. Not only the film was panned by critics for its inconsistent storyline, overuse of CGI but has also become a laughing stock courtesy Henry Cavil's Superman's poorly edited moustache. Justice League had also underperformed at the box office. Nevertheless, it looks like DCEU film has struck a chord with Google Play users.
Deadpool 2: It is very rare for sequels to be better than the original movies, and Deadpool 2 is one such masterpiece. Ryan Reynolds reprised his role of the wisecracking mercenary, Wade Wilson aka Deadpool and in this film, he is putting up a team against the time-travelling cybernetic soldier, Cable.
Hickhi: Only Bollywood movie to make to the top-five of Google Play User's Choice Awards is Rani Mukerji's Hichki. The talented actress made a comeback to the silver screen post maternity break and completely ruled it. Hichki won over hearts of critics, fans and did a fantabulous business at the box office.
These are the top-five movies chosen by Google Play users. They have been big high-budgeted, highly-promoted films, which has been loved by the masses. However, one movie name whose absence is very shocking is Avengers: Infinity War! The highest-grossing film of the year finds no place in Google Play's "Best Movies 2018" list. What do you think about the list?