New Delhi, Aug 3: An 11-digit toll-free number - 1800-300-1947 - saved in the name of 'UIDAI' in thousands of Android mobile phones, created panic across the country on Friday. The toll-free number is saved under Aadhaar agency UIDAI's name in mobile phones by default. However, the Unique Identification Authority of India (UIDAI) has clarified it has nothing to do with the 'mysterious' contact. A person can delete this toll-free number from its contact list by following simple steps given below. Google in it's statement today, finally owned up the responsiblity of this glitch.
"In the wake of some media reports on default inclusion of UIDAI's outdated & invalid Toll-free no. 1800-300-1947 in the contact list of Android phones, it is clarified that UIDAI has not asked or communicated to any manufacturer or service provider for providing any such facility whatsoever," the UIDAI, which is responsible for Aadhaar card, said in a statement. Since the toll-free number is not of the UIDAI, cell phone users are advised to delete it from their contact list, there is no harm in keeping it but this is a non-functional number and your queries on Aadhaar will not be answered here.
How to Delete 1800-300-1947 'UIDAI' Contact Toll-Free Number
Go to your contact list.

Search for UIDAI.
Click on 'Options' icon (Three Verticle Dots).

You will find options to block, delete, share the number etc.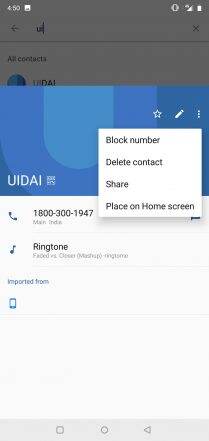 Click on 'delete contact' option.

There will be a confirmation screen to delete the contact.
Press 'delete' to remove the number.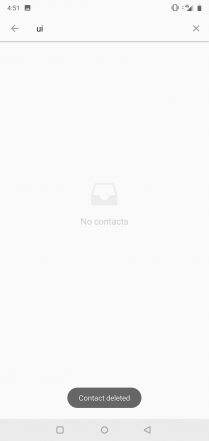 A French security expert, Elliot Alderson, asked UIDAI on Twitter: "Many people, with different providers, with and without an #Aadhaar card, with and without the mAadhaar app installed, noticed that your phone number is predefined in their contact list by default without their knowledge. Can you explain why?"
The development comes days after the Telecom Regulatory Authority of India (TRAI) Chairman R S Sharma threw an open challenge to Aadhaar critics and hackers by sharing his 12-digit Aadhaar number on July 28. Ethical hackers exposed at least 14 personal details of the TRAI Chairman, including mobile numbers, home address, date of birth, PAN number and voter ID, among others.
Following Sharma's challenge, many people have shared their Aadhaar number on social media, after which the UIDAI issued a warning asking people not to disclose the 12-digit unique identity number.