After the row of questions raised by people regarding the helpline number being saved automatically into their contact list, Google, a tech giant has admitted that the older Aadhaar helpline was coded at their end. The US internet major also clarified that UIDAI helpline number in the contact lists of the Android Smartphones was not an authorised breach and the same will be fixed in next few coming weeks.
It is emphasised that the said 18003001947 is not a valid UIDAI Toll free number and some vested interest are trying to create unwarranted confusion in the public. 3/n

— Aadhaar (@UIDAI) August 3, 2018
The official word from Google came in after UIDAI made a statement that they have not forced any smartphone maker or telecom operator to add the helpline number to the contact list. The company also revealed that the Aadhaar helpline number was added in the year 2014 which was the then UIDAI helpline number.
Google spokesperson said in a statement that "Our internal review has revealed that in 2014, the then UIDAI helpline number and the 112 distress helpline number were inadvertently coded into the SetUp wizard of the Android release given to OEMs for use in India and had remained there since. Since the numbers get listed on a user's contact list, these get transferred accordingly to the contacts on any new device." How to Delete 1800-300-1947 'UIDAI' Contact Toll-Free Number From Your Mobile Phones, Aadhaar Agency Clarifies It is Not Official!
The company further said, "We are sorry for any concern that this might have caused, and would like to assure everyone that this is not a situation of unauthorised access of their Android devices."
The users can manually delete the number from their Android devices and Google will be working towards fixing this issue in the forthcoming Setup wizard that will be made available to OEMs in next few weeks. Is Your Smartphone Security Compromised? UIDAI Helpline Number Pre-Loaded in the Contact List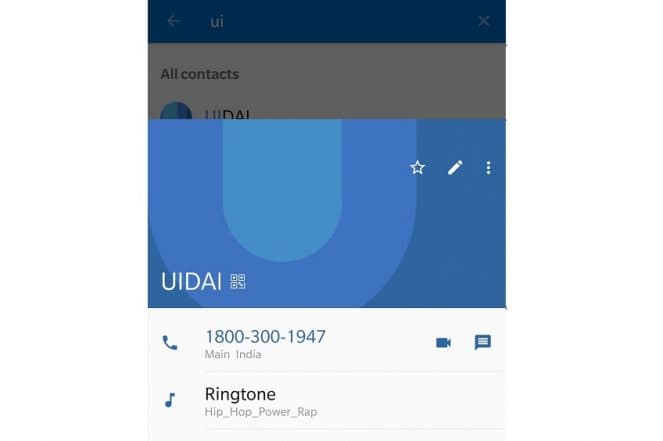 UIDAI, handset vendors and telecom operators, on Friday, clarified that they had no role in the mysterious appearance of the helpline number in Android smartphone users' phonebooks. UIDAI Clarification on Toll Free Number 1800-300-1947 Saved in Your Mobile Contact List By Default: 'Vested Interest Trying to Create Confusion'
Earlier in the day, the Unique Identification Authority of India, telecom operators and handset vendors said they had no role to play in the mysterious appearance of the Aadhaar helpline number. The body responded to series of Tweets on Friday over the presence of UIDAI helpline number 1800-300-1947 on Android and some iOS devices as many people feared a breach of privacy and security.