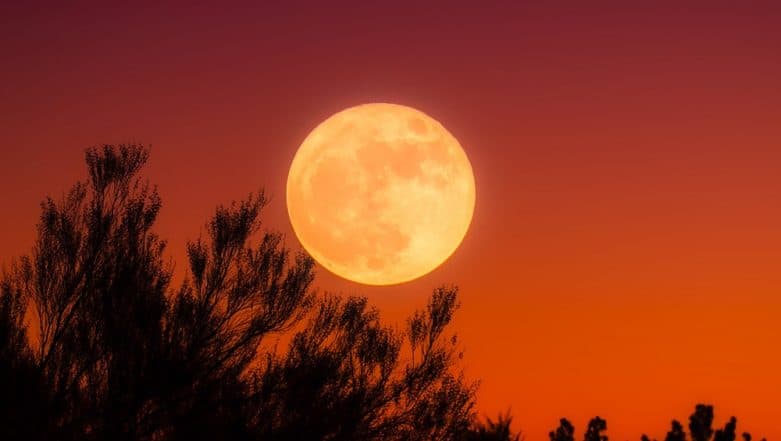 Like each month, the full moon of this month will appear on September 13. The full moon on September is called the Harvest Moon. This full moon is nearest to the autumnal equinox, beginning on September 23. Each moon has a specific name as per the Farmer's Almanac. The Harvest moon is also called the Micro moon. This occurrence also remains significant because it is Friday the 13th. Ahead of Harvest moon 2019, we will tell you more about the date, timings and why it is called so. Celestial Events in September 2019: From Harvest Moon to Autumn Equinoxes, Know Dates of All Astronomical Happenings of The Month.
Date and Time of Harvest Moon
Harvest moon 2019 will be marked on September 13. As per the Farmer's Almanac, for people living in the Eastern Time Zone, the moment of the full moon turns will occur just after midnight—at 12:33 a.m. on Saturday, the 14th. In the UK, the Full Moon will peak around 5.33am BST (4.33am UTC).
Why Harvest Moon?
Each full moon gets its name based on some seasonal changes. The month of September is the harvest season for the early Native Americans. As the Old Farmer's Almanac puts it, "What sets this upcoming full Moon apart from the others is that farmers, at the peak of the current harvest season, can work late into the night by this Moon's light." Back in the time, farmers used the moonlight to work in the fields and on the days with maximum moonlight, they stayed up and gathered their crops after the sunset. This moon is said to rise at the time of sunset, which is almost 50 minutes earlier than on an average day.
The Harvest moon is also referred to as micromoon. It is said that this moon appears 14 percent smaller than the regular moon. This is because, the moon is at the point of apogee- the furthest point of the moon's elliptical orbit. Although we on earth, cannot understand that much of a difference, it concerns more to the keen observers who study the moon. An opposite of micromoon is called the supermoon.