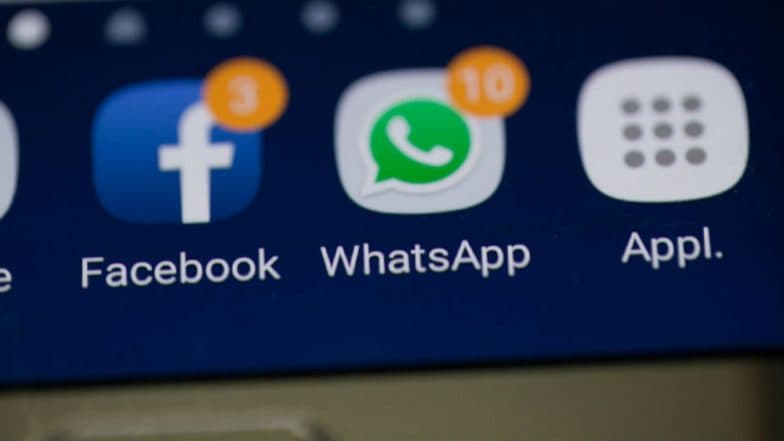 New Delhi, March 14: Popular messaging app WhatsApp, social networking site Facebook and photo-sharing app Instagram continued to suffer service outage for the second day on Thursday in some parts of the world. While many users were able to check their Facebook and Instagram profile and use WhatsApp, some users continued to face issues. Facebook's messaging apps Messenger is also down in some parts.
Facebook and Instagram users could open the apps but experienced troubles uploading posts. WhatsApp, Facebook and Instagram services were disrupted for users across the globe for hours on Wednesday. Facebook Messenger also suffered service disruptions. Following the outage, users expressed anguish and reported about the inconvenience faced by them on micro-blogging site Twitter. Hashtags such as #FacebookDown, #InstagramDown and #Whatsapp continued trending on Twitter on Thursday. Gmail Down Globally; Google Initiates Investigation as Users Report Problems.
Tweets on WhatsApp, Facebook, Instagram Service Outage:
#InstagramDown and #FacebookDown is a #Crisis on #SocialMedia. This Crisis Needs to Be Resovled NOW! #WakeUP and #GrowUp!

— Spencer Karter (@SpencerKarter) March 14, 2019
Have been trying to post stories on @instagram & they aren't uploading.

Like like #instagramdown.

PS: App is up, but unable to upload media. https://t.co/8SkbgbvAGB

— Amit Bhawani (@amitbhawani) March 14, 2019
#Facebook is facing severe outage in several parts of the world.. The longest time the App is down in its history.. #Instagram and #WhatsApp were down also..

Cause is not known.. #Facebook is working to bring the services back.. #FacebookDown #InstagramDown #WhatsAppDown

— Ramesh Bala (@rameshlaus) March 14, 2019
How come the Facebook efficiency is so low, and there is still no review result in two days. #FacebookDown pic.twitter.com/vRu6S1qU9k

— tanjian (@tanlongbin) March 14, 2019
"We're aware that some people are currently having trouble accessing the Facebook family of apps. We're working to resolve the issue as soon as possible," Facebook said in its initial response. The social media giant ruled out a cyber attack on its products Whatsapp, Instagram and Messenger. "We're focused on working to resolve the issue as soon as possible, but can confirm that the issue is not related to a DDoS attack," Facebook said.
Instagram also responded, saying, "We're aware of an issue impacting people's access to Instagram right now. We know this is frustrating, and our team is hard at work to resolve this ASAP."