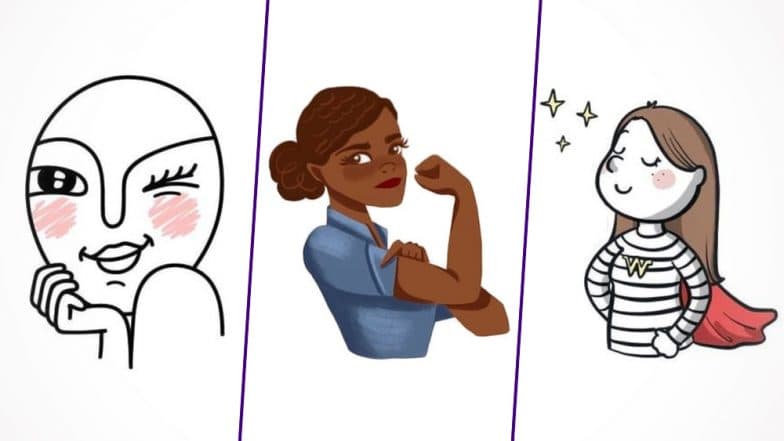 It is International Women's Day today, a day which respects and honour womanhood and their achievements. It is an important day which marks the contributions and honours women from different fields. It is also a day on which all women wish other females for a Happy Women's Day. Women's day stickers and messages are widely exchanged among every female. With the advent of WhatsApp taking over all communication, stickers have become a new way of expressing. WhatsApp too has introduced special sticker packs especially for wishing and sending Women's Day greetings. So apart from sending Women's Day messages, images and GIFs, you can send Women's Day WhatsApp stickers to your girl pals, colleagues, sisters and best friends. Happy Women's Day 2019 Wishes for Mothers & Sisters: Empowering Quotes, SMS, Messages, International Women's Day Greetings to Send on March 8.
Stickers are one step ahead of emojis and they have become an excellent way of communication. Instead of writing quotes and messages, you can just convey your feelings with one click with these stickers. Women's day sticker packs have been introduced just in time for today and make sure you make the best of it. We give you a list of sticker packs that have been introduced by the messaging application for Women's Day 2019. International Women's Day 2019 Quotes and WhatsApp Stickers: Facebook Photos and Instagram Captions to Send Happy Women's Day Greetings.
Watch Video of Happy Women's Day Messages and Greetings
Women's Day WhatsApp Sticker Packs for Wishing Happy Women's Day
Shreya Doodles: A famous doodle artist from India, Shreya Doodles' sticker packs has some cute faces and stickers for this day. These stickers are available only on Android.
Salty: Salty is a sticker pack created by Alisa K who is a WhatsApp product designer. She has got her stickers by observing the daily life, emotions of people's faces and her experiences. It is available on Android and iOS.
Feminist: Since feminism has become a topic discussed everywhere and also widely, this sticker pack gives a message of female empowerment. It has quotes of some famous women, which you can forward as a source of inspiration. This sticker pack too is available only for Android.
Fearless & Fabulous: As the title suggests, this sticker pack consists of strong and powerful women. It has been created by illustrator and designer, Ann Shen. It is available on both Android and iOS.
Dibujando los días: A sticker for every mood is depicted by Mexican artist Mayuli. It is a beautiful sticker pack to send to your girl pals as it highlights every mood. It is available only for Android.
These are some of the sticker packs that have been introduced by WhatsApp for sending Happy women's day greetings. If you are someone who prefers fewer words and more emojis, then let these special WhatsApp stickers speak for you.