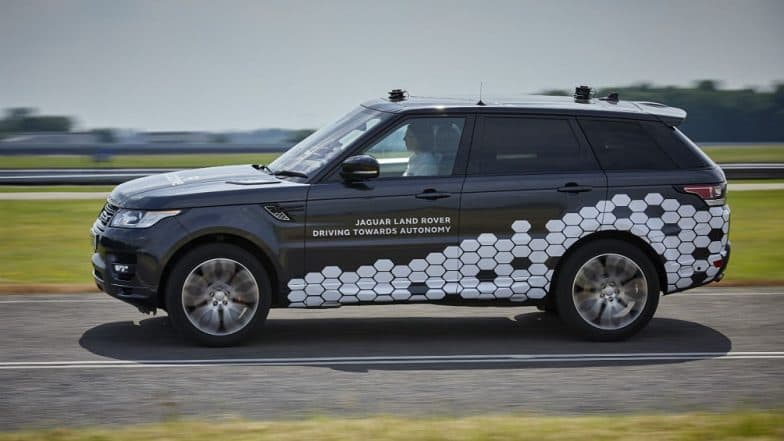 Autonomous cars or driver-less cars is definitely the future! Foreseeing the same, several car makers have already entered into the race to create driverless cars. One such car maker is Jaguar Land Rover (JLR) who recently completed a self-driving lap by the autonomous vehicle of Coventry's infamous inner-city ring road. This road is believed to be one of the trickiest highways in Britain. 2018 Land Rover Range Rover and Range Rover Sport SUVs Launched; Priced in India at Rs 1.74 Crore & Rs 98.48 lakh.
The prototype driverless Range Rover Sport completed the entire circuit of the complex Coventry Ring Road which is filled with a confusing succession of exits and entrances. The car also successfully changed lanes and merged with the traffic and exiting junctions at the speed limit of 40 mph.
The SUV performed the demonstration as a part of UK Autodrive, which is a $26 million government-funded project inclined towards developing driverless vehicles. According to the company, the driverless car can now handle roundabouts autonomously. It can also control traffic lights, pedestrians, cyclists and other cars on complicated roads. Moreover, the car is also capable of parking itself. Tata Harrier SUV aka H5X Concept Official Teaser Released Ahead of India Launch - Watch Video.
The engineers inside the car monitored the driving and ensured that the technology performed as the way it is desired, as seen in the video. Several combinations of current and future cameras along with sensor as well as computer technology blended for a fleet of prototype cars for operating driverless mode.
Mark Cund, JLR's manager of autonomous vehicle research stated about the road system that "it makes for very challenging conditions, especially when under pressure in the rush hour," but said he looked forward to the day when everyone can experience driverless cars that will "turn a potentially very stressful situation into a completely stress-free one."