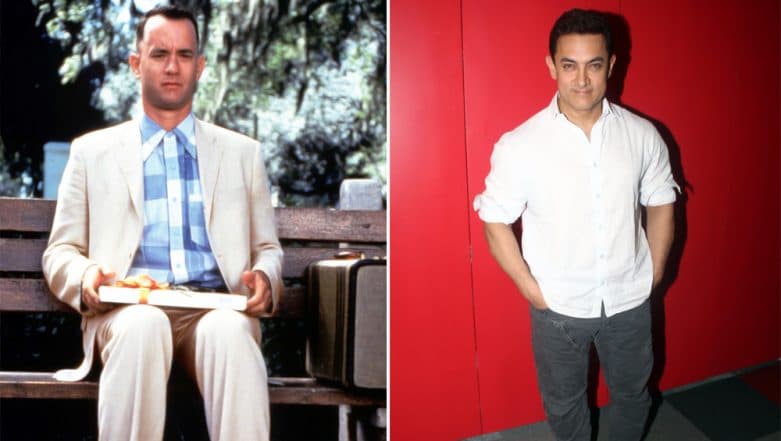 Expect the unexpected when it comes to Aamir Khan! The actor who's one of the most bankable stars of recent times is known for his innovative subjects and the way he handles his every character. He's a master of disguise and his attempts are usually whistle-worthy unless he tries something as Thugs of Hindostan of course. And while the actor was in news for working on his dream project, Mahabharat, seems like another big idea was brewing in his mind. If recent reports are to believe, the actor is keen to step into Tom Hanks' shoes for the Indian remake of his Oscar-winning movie,  Forrest Gump. Ghajini 2 on the Cards? Will Aamir Khan Pick This Sequel Before His Dream Project Mahabharata?
Rajeev Masand in his article for Open magazine revealed Aamir Khan's plans to remake this special film and it may start rolling very soon. The actor was earlier on board for Gulshan Kumar biopic, Mogul. However, when its director Subhash Kapoor was accused of sexual misconduct in the recent #MeToo movement, he decided to distance himself from the project. And that eventually led to him having a good bunch of dates which can be utilized effectively for Forrest Gump remake. The actor has invested enough time with his writers to come up with the right script for his adaptation and is already working on pre-production and look tests. Salman Khan Did NOT Want Katrina Kaif to Work With Aamir Khan and Shah Rukh Khan in Thugs of Hindostan and Zero – Details Inside.
We're excited for this big project that wil be produced by Aamir himself and directed by Advait Chandan (Secret Superstar)edit. While we heard reports of him being in talks for a biopic on Osho, seems like Forrest Grump remake was a wise choice. And knowing what a brilliant performer he is, Tom Hanks will be definitely proud of his performance.