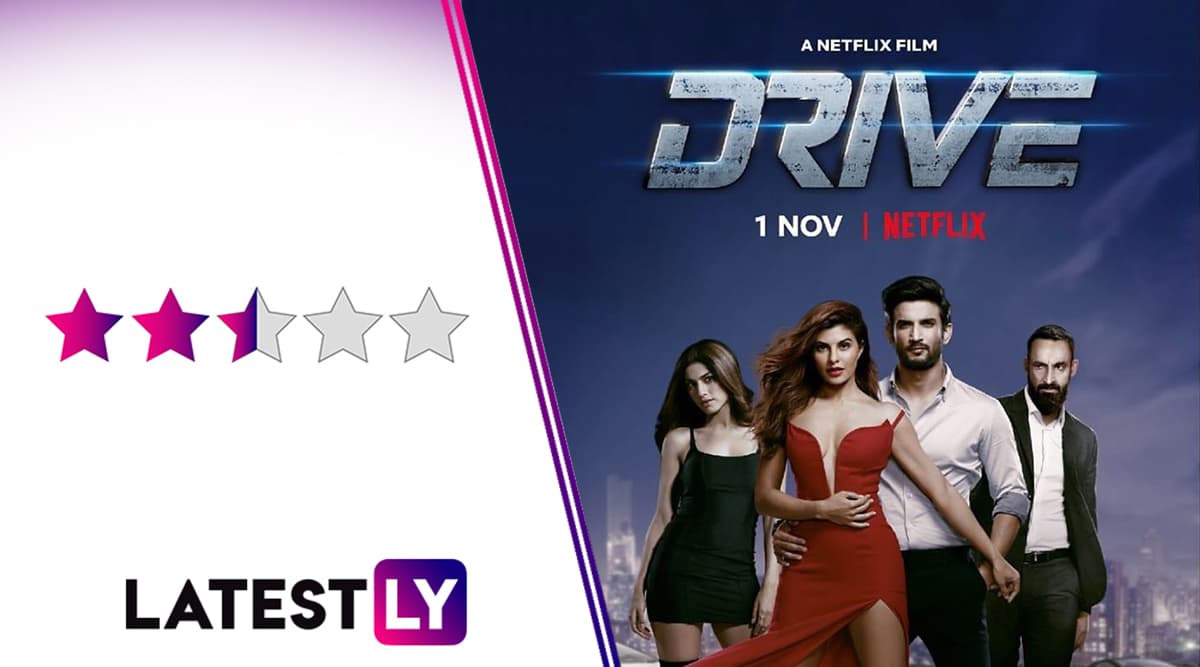 Drive Movie Review: After having watched Drive on Netflix, the first thought that came to my mind was, why wasn't this released in theatres? No, I am not saying that Dostana director Tarun Mansukhani's second film is great; but it is also not the travesty that I expected it to be either. Maybe I had set my expectation bar quite low for this movie, but I have also endured worse films in theatres in a similar genre. With some more polish in the post-production department and a little less Fast & Furious influence, Karan Johar, who has produced Drive, could have made it a theatre-worthy film. Come one, this isn't more sham than Student of the Year 2. Or even Kalank. Drive Song Prem Pujari: Sushant Singh Rajput and Jacqueline Fernandez Sizzle in Silver For This Wedding Song!
So what's Drive about? It has a premise revolving around a group of underground car racers (Sushant Singh Rajput, Jacqueline Fernandez, Vikramjeet Virk, Sapna Pabbi) who wants to steal a large stash of gold and cash from the Rashtrapati Bhavan. Preventing them from doing so is a corrupt bureaucrat Vibha (Vibha Chibber) and her lackey Hamid (Pankaj Tripathi), along with a staffer from the PMO, Irfan (Boman Irani). Both the groups are also after a mysterious King, who is a master in looting stuff, but whose identity is not known.
Drive is a disaster when it tries to act as the Fast and Furious franchise's poor cousin. Unlike the Hollywood franchise, there is no polish in the CGI shown during the car chases, where everything looks so goddamn fake. The polish lacks on the cars themselves, when they are stationary, looking like a hastily done-paint job on ordinary cars. Even assuming that we can have high octane car chases on the always-under construction, pothole-ridden roads of Delhi, the car-race sequences are shoddily edited and shot, losing any kind of impact in the process. Why did Netflix allow such slipshod post-production work on their platform? I just hope that it doesn't allow big banners to make it their dumping ground.
It's the heist portions that feel intermittently interesting and engaging. That is, if you can bear through a disjointed first act, involving a couple of car chases, the F&F like planting of an undercover cop (but with a twist) and a random song shot in Israel ("Makhna") that could have been cut from the film. It is only when Drive brings the focus back on the heist that you feel there is something worth watching. Of course, there needs to be a suspension of disbelief in how the leads try to carry out the stake, from using rats to create a diversion, to the ease with how they manage to infiltrate some of the departments. Sushant Singh Rajput-Jacqueline Fernandez's Drive Trailer Drives Twitterati Crazy, Netizens Brutally Troll the Netflix Film.
But there are some fun moments too. Like that thrilling scene when Tara nearly gets caught by the Bhavan's security team during checks. Or how the scamsters try to fool the surveillance team into thinking their cameras aren't working. The final car chase sequence is once again a VFX letdown, but the twist and revelation that take place after that will surprise you. Unfortunately, Tarun doesn't really stop there and piles up more twists to make the whole thing an even more contrived affair, which makes you question everything that came before.
Watch The Trailer of Drive:
The Performances
When the lead actors do not preen to the camera, they are pretty alright. Sushant Singh Rajput is charming but his performance lacks the kind of energy that we saw in Chhichhore and Sonchiriya. Jacqueline Fernandez's broken Hindi is distracting, but she is easy on the eyes and gives a decent performance in the third act. Vikramjeet Virk is alright while Sapna Pabbi makes do with a thinly written role. The trio of Boman Irani, Pankaj Tripathi and Vibha Chinner has more chemistry between them than the lead quartet.
Yay!
- Some of The Heist Portions
- The Supporting Cast
- Sushant and Jacqueline's Chemistry isn't Bad
Nay!
- Contrived Plot Twists
- Bad VFX
- Shoddily Edited Car Chase Sequences
- Two Random Song Placements
Final Thoughts
As a heist film, Drive shows promise with some engaging, thrilling scenes and a couple of surprises, bolstered by two good-looking leads. It is only when it apes to be a clone of Fast and Furious, is where things begin to crumble and flaws stand out like the bad VFX used in the film. But hey, you can watch it for free on Netflix, so no loss there!