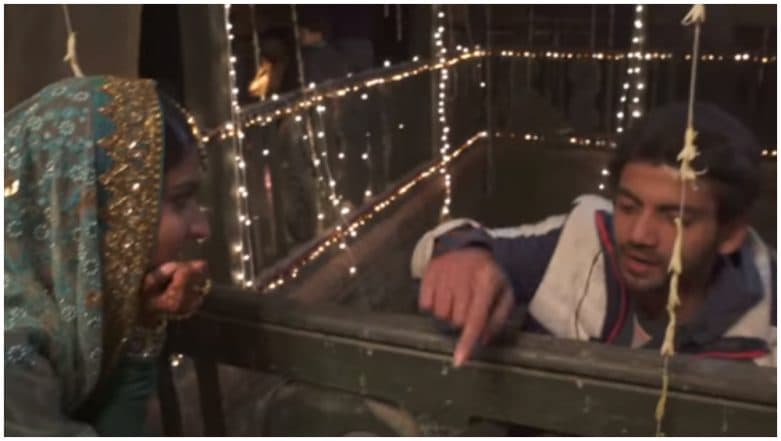 Salman Khan is launching two new actors in Bollywood with his upcoming production venture, titled Notebook. The romantic movie stars Pranutan Bahl and Zaheer Iqbal in the lead roles. The trailer and the songs of the movie have created a positive buzz for it. Adding to the hype, the makers have released a new behind the scenes video, in which we get a glimpse of Pranutan and Zaheer's chemistry. Off screen chemistry, to be precise. The movie's premise is such that the two lead characters don't spend much time with each other. They actually fall in love with each other without ever having met. So, this BTS video is our best chance of seeing their chemistry. Notebook Song Nai Lagda: Pranutan Bahl and Zaheer Iqbal's Romantic Song by Vishal Mishra is a 10/10 (Watch Video).
In the new Notebook promo, we see Zaheer pretend to be an AD on the sets in front of Pranutan. She slaps him playfully seeing just how adorable he is being. And, OMG, our hearts aflutter. The duo certainly will bring freshness to the screen. All we hope now that the two of them are decent enough actors for us to root for them. Notebook Song Laila: Pranutan Bahl Proclaims Her Love for Zaheer Iqbal in This Soothing Number - Watch Video.
We also get to see Vishal Mishra recording the song Nai Lagda in the studio. Also, we get to see how the movie has been shot on real, picturesque locations. Every single frame in the trailer and the songs were such a delight. It was nice to get a behind the scenes look on the same.
Check out the new Notebook video below:
Notebook is inspired by a 2014 Thai film, Teacher's Diary. It has been directed by Nitin Kakkar of Filmistaan fame. Notebook is set to release on March 29.