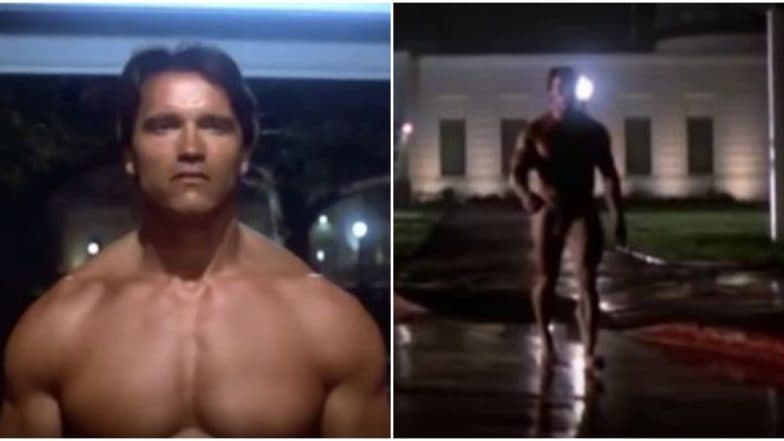 The 1984 film The Terminator is considered as a revolutionary piece of cinema when it comes to sci-fi-genre. It is, more or less, the breakout movie for its lead stars, Arnold Schwarzenegger (along with Conan the Barbarian), the former Governor of California and one of the most followed action stars across the world. While he had acted in films before The Terminator, it is the antagonistic role of time-travelling murderous cyborg in the James Cameron film that made him a popular name worldwide. Terminator: Dark Fate Star Linda Hamilton Says She Has Not Had Sex in 15 Years
If you have watched this classic, you probably remember his intro scene in The Terminator. The actor appears naked when his character makes a sudden appearance in the present times from the future in the first act of the movie. If you have watched the film in a normal print or in theatre, most of his errrr... private portions, is shrouded in darkness save for his buttocks.
But if you are seeing the film in Bluray, then you can see a bit of Mr Schwarzenegger. Like how Beelzebrad Miska shared this gif from a Bluray clip of the above scene, where you can clearly see Arnold and his ah, little 'Arnold'. Terminator: Dark Fate Trailer Arnold Schwarzenegger As T-800 And Linda Hamilton As Sarah Connor Reunite For The Battle of The Enhanced Machines.
You didn't really understand how good Blu-ray was until you watched the opening scene of Terminator. pic.twitter.com/IWbrfHYruN

— Beelzebrad Miska 👹 (@bradmiska) October 9, 2019
Beelzebrad himself raises so many questions on this scene, something even we want answers for.
I have so many questions. Was it a closed set that night? How many takes? Did they talk about "it"? Why not cover it? Did it become an ongoing joke? Did they shoot this on the first day or last? Why does a Terminator have a penis and does it work? 🧐 https://t.co/znw30LHmCc

— Beelzebrad Miska 👹 (@bradmiska) October 9, 2019
And as expected, the clip has raised some very funny observations and jokes on Twitter.
Batman: Damned!
Batman: Damned (2018) https://t.co/jDFguACb9U

— NathAsh Groovy Snydes (@nateallensnyde) October 9, 2019
Now We Know Why!
You think he won Mr. Universe for his muscles?? https://t.co/JNfut6FbhR

— J writes (@GVesperia) October 9, 2019
T-800!
Packin the T-800 all day https://t.co/jA0gSROSWM

— mattpathetic (@mattpathetic) October 9, 2019
James Cameron, Please Answer!
This raises multiple logic questions about the design of the T-800 line... https://t.co/4HsPfY4wDe

— Bob Chipman (@the_moviebob) October 9, 2019
So Time-travelling Cyborgs Lost Their Charm?
i knew i loved these movies for a reason https://t.co/nmwuONwyYc

— eva (@glrlclub) October 9, 2019
Bluray Sales Gonna Go Higher!
Screw streaming. I'm going back to Blu-Ray!!! https://t.co/rgWGnKHpi5

— Scotty Mullen (@scottymullen) October 9, 2019
Did Anyone Get a Craving for Hotdog?
— Ash (@Ode2Ash) October 9, 2019
Wonder What Mr Arnie Has To Say On This!
— A NIGHTMARE ON ELM(aximo) STREET (@RealElMaximo) October 9, 2019
You Just Ruined That Baby Elephant Gif For Us!
— SinisterEdge (@SinisterEdge13) October 9, 2019
You can watch the video of the above scene here (though not in Bluray):
While Arnold had played the main antagonist in the first Terminator movie, he had played the good cyborg in the sequels, including the highly acclaimed Terminator 2: Judgement Day. He will be also seen in a smaller role in the upcoming film, Terminator: Dark Fate, the sixth movie in the franchise that also marks the return of Linda Hamilton as Sarah Connor, after being absent from the series since T2.