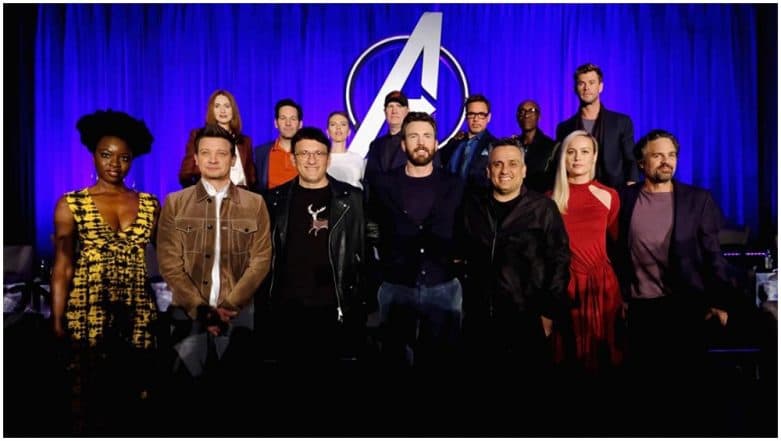 Avengers: EndGame's storm at the box office is an eye-opener, not just for the audience, but also for trade experts and other film-makers. Now, who would have expected that a Hollywood film not only makes more than Rs 300 crore in India, but that it does so in record time? Avengers: EndGame, the 22nd film in the Marvel Cinematic Universe, has created so many records at the Indian box office within one and a half week, and it is not even planning to slow down. Avengers EndGame Box Office: After Beating Titanic, Fans Are Making Memes on How James Cameron's Avatar Should Be Worried of the Marvel Film.
As of now, Avengers: EndGame is the highest grossing Hollywood film in India (beating its predecessor, Infinity War), as well as the first Hollywood film to enter the Rs 300 crore club. The Marvel film is also the fastest to get into both Rs 200 and Rs 300 crore club. What's more, EndGame also earns the record for having the highest opening day collections in India, beating Aamir Khan's Thugs of Hindostan.
The power of the film was such that no Bollywood film even dared to come out on April 26, when EndGame released in India. The mega-success of the film also opened our eyes, when it came to some pre-conceived rules of the Indian box office - EndGame just rewrote those rules!
Rule #1 - You Need a Huge Superstar To Get in Rs 300 Crore Club
Once upon a time, we thought only a Salman Khan or an Aamir Khan had exclusive access to the elusive Rs 300 crore club. But then in the past couple of years, films like Baahubali 2, Padmaavat and Sanju proved that this is not the case. And now with Avengers: EndGame also making an entry here, and perhaps, in days ahead, even defeating all Hindi movies in this club, the exclusivity is now thrown out of the window.
Rule #2 - Festival Releases Are Important
Most of the Bollywood film-makers are looking to release their films during festivals, leading to some big clashes. While that does give the film a big start, the holiday release doesn't guarantee a hit status. Just see what happened to Race 3, Thugs of Hindostan, Zero and Kalank - all holiday releases. And then, Avengers EndGame and Infinity War, as well as Baahubali 2, were all non-holiday releases and yet they made box office records. Why, EndGame also was the highest opening day grosser, despite having a non-holiday release.
Rule #3 - Hollywood Films Are Never A Threat
You thought the box office success of Avengers: Infinity War in 2018 was a freakish incident? Now Avengers: EndGame is threatening to beat all the Hindi highest grossers at the domestic box office. The success of the film proves that the audience is a sucker for good content presented in a pleasing manner, no matter what the language is.
Rule #4 - Screen Counts Is A Huge Factor
We have seen the trend of big-ticket Indian films trying to get a release over maximum screens. Kalank had released to a screen-count of more than 4000. As for EndGame, it got 2845 screens in India and yet managed to do more than triple business of Kalank. The demand for the film was such that some of the theatres had shows as early as 3 in the morning, while some had 24/7 shows. Avengers Endgame: Disney Surprises the US Troops Stationed in Afghanistan With the Special Screenings of the MCU Film.
Rule #5 - Audience Love Desi-Rooted Movies
One of the latest trends that have been working at the Indian box office is the desi connect of the movies. The blockbuster success of films like Sanju, Simmba or period films like Padmaavat and Kesari show their pan-Indian appeal. A movie like Avengers: EndGame is more metro-centric and yet it did a raging business that you expect a Salman Khan movie to do.
At the time of writing this article, Avengers: EndGame has collected Rs 312.95 crore in India, overshadowing Salman Khan's Sultan and Deepika Padukone's Padmaavat. Globally, it has managed to become the second highest grossing film of all time, beating James Cameron's Titanic in the process. In a few days time, it could even earn the top spot, toppling Avatar from the peak.