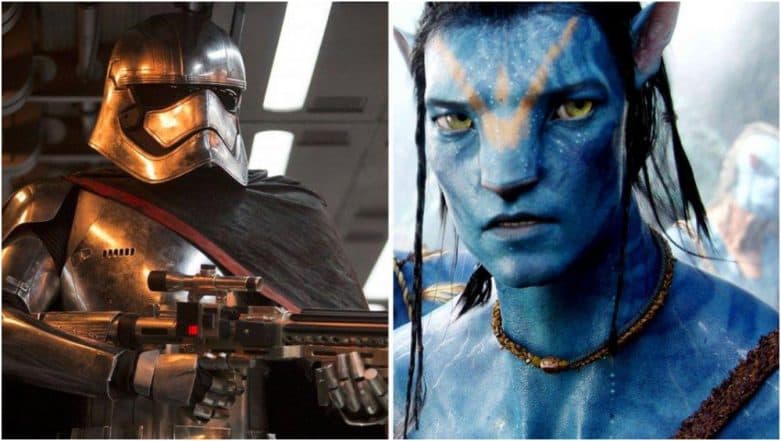 Looks like fans of James Cameron's Avatar are going to have to wait a little longer for the sequel, now that it has been delayed further. Avatar 2 will hit theatres on December 17, 2021, instead of December 18, 2020, as originally planned. This also means that the other films in the franchise have now moved forward too with Avatar 3 scheduled for December 22, 2023, while Avatar 4 will come out in December 19, 2025, and Avatar 5 is set for December 17, 2027. These shifts have come after Disney's recent merger with 21st Century Fox. Disney has also announced the dates for the upcoming three untitled Star Wars films which will start hitting theatres in 2022.
Earlier, Disney CEO Bob Iger had reportedly told investors that Disney was going to take a backseat on the production of Star Wars films following Star Wars: The Rise of Skywalker, which comes out this December.
Take a look at the tweet announcing all of the upcoming projects:
Disney drops updated movie release schedule through 2027, including projects for Marvel, Star Wars, Indiana Jones, Pixar, and the Avatar sequels pic.twitter.com/g2zfTZwWvO

— Fandom (@getFANDOM) May 7, 2019
This announcement from Disney is huge considering over the next eight years, the production house will release close to 65 films from its various divisions such as Marvel Studios, Pixar, Lucasfilm, Disney Animation, Disney Originals and, Fox.
A tweet announcing the new release date of Avatar 2:
Now scheduled to land on Pandora December 17, 2021 pic.twitter.com/d21QmCwiHC

— Avatar (@officialavatar) May 7, 2019
Among the 21st Century Fox's studios films, a new untitled Kingsman movie is slated for 2020 and we finally have a confirmation that The New Mutants, of the X-Men franchise, is still in the works and is set to be released on April 3, 2020.
The studio's president of theatrical distribution, Cathleen Taff said in a statement as reported by Variety, "With a strong summer already in place, we are eager to carry that momentum forward over the coming years thanks to a creative wellspring of bold and imaginative stories coming from our world-class studios — including several new chapters of two revered franchises, 'Avatar' and 'Star Wars.'"
Which movies are you looking forward to the most from the above list of announcements?