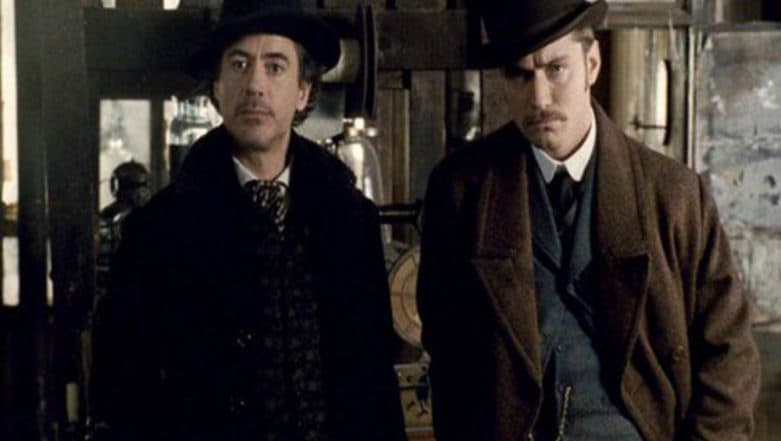 While we may not see Robert Downey Jr as Iron Man again, the actor will be returning as detective Sherlock Holmes again for the film's third instalment. Teaming up with Jude Law as Dr Watson, the actor is all set to entertain us again. Sherlock Holmes 3 will be shot in California extensively and there's good news for the makers as the film is among the 10 projects have been approved to receive tax credits for shooting there. The Robert Downey Jr starrer has been selected by the California Film Commission to receive a conditional $20.8 million tax credit for shooting in California. Robert Downey Jr and Jude Law's Sherlock Holmes 3 Will Not be Directed by Guy Ritchie? Read Details.
Sherlock Holmes 3 is the second-highest project spending under the new tax incentive program after Marvel's Captain Marvel starring Brie Larson which holds the record with $118 million. Films covered under this program have included Captain Marvel, Transformers spinoff Bumblebee and Space Jam 2 previously.
In an official statement, the new California Film Commission executive director, Colleen Bell, said, "California is once again competing for big-budget film projects because it's becoming clear that chasing the highest tax credit doesn't always provide the best value. In addition to our tax credit program, we have so many resources that other locales simply can't match." Spiderman Far From Home Actor Tom Holland Says, 'Robert Downey Jr As Special to Me As Tony Stark Is to Peter Parker'.
The last Sherlock Holmes film, Sherlock Holmes: Game of Shadows released in 2011. The third instalment is being helmed by Dexter Fletcher and is expected to arrive in December 2021. It is produced by Susan Downey, Joel Silver, and Lionel Wigram. According to reports, the film will have Holmes and Watson catch up after spending an extended time away from each other.