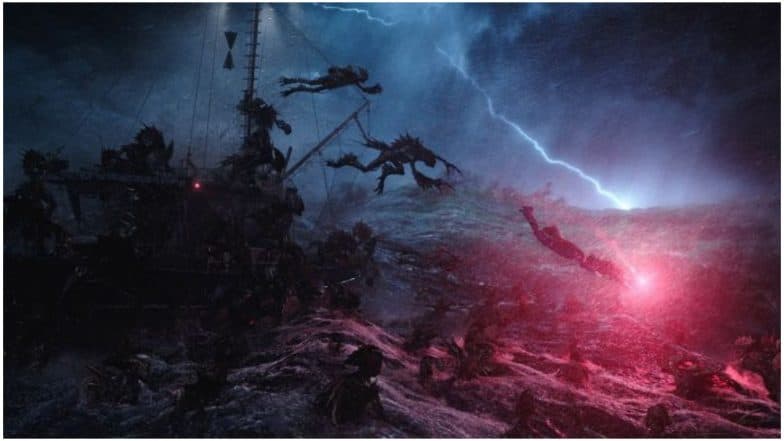 Warner Bros and DC Comics are in the mood of announcing some very unusual comic book projects. They are already in the middle of making The Joker, starring Joaquin Phoenix. Now after the big billion-dollar success of Aquaman, starring Jason Momoa and Amber Heard in the lead, the studios have not only announced the inevitable sequel, but also a weird spinoff. The spinoff, tentatively titled The Trench, takes its roots from one of the best scenes from Aquaman. Jason Momoa's Aquaman 2 Gets a Release Date, Will Hit the Screens On December 16, 2022.
The particular scene had Aquaman and Mera go in a very dangerous territory in the seas where they are attacked by nightmarish creatures. The spinoff will be set in this part of the ocean, though it won't bring back the leads of Aquaman, confirms an article in The Hollywood Reporter.
The same article mention that The Trench is being developed by Aquaman director James Wan and producer Peter Safran. In an interview to THR, Safran confirmed that Aquaman 2 will release on December 16, 2022, but The Trench will come out much before that. Jason Momoa's Aquaman Just Beat Robert Downey Jr's Iron Man 3 At The International Box Office! Find Out How.
Watch the Trench Sequence from Aquaman:
Speaking to the publication, Safran said, "We always, even from the early concept art days, loved the idea of a Trench movie. Then, when audiences embraced it in the movie itself the way they did, particularly that ant farm shot where the camera follows the Trench following Arthur and Mera down into the deep, we just knew that we had something very special there and we knew what that movie should be. And consequently, I suspect that that's one that will come out significantly before Aquaman 2." The report states the movie will focus more on horror and thrills.
Also coming out before Aquaman 2 would be other interesting DC movies, like Shazam!, Birds of Prey, The Joker and The Batman. Not to mention, the much-expected sequels of Wonder Woman and Suicide Squad. The most immediate release would be Shazam! scheduled to release on April 5.