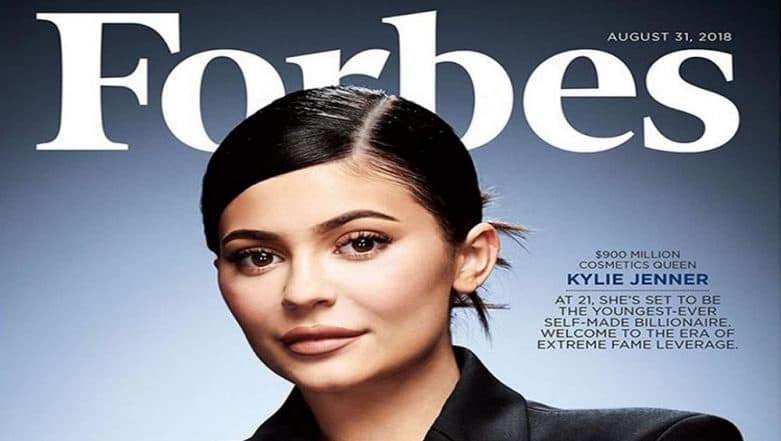 Kylie Jenner, half-sister of reality TV star Kim Kardashian is fast approaching the status of becoming the world's youngest self-made billionaire at 20 years of age, according to the Forbes magazine.
The business magazine said the social media star is on track to become "the youngest-ever self-made billionaire" and the valuation is from her revenue combined with the value of her cosmetics line which she owns completely. Jenner will turn 21 in August as her Forbes cover edition hits newsstands.
Kylie, the youngest of the Kardashian clan, started selling her own cosmetics line with a focus on lip-wear three years ago. "What her half-sister Kim Kardashian West did for booty, Jenner has done for full lips," Forbes writes, describing her famous pout.
How 20-year-old Kylie Jenner built a $900 million fortune in less than 3 years:https://t.co/PtJG2vfl3k #SelfMadeWomen pic.twitter.com/JLDtlir40k

— Forbes (@Forbes) July 11, 2018
Forbes recounts that Kylie Cosmetics launched two years ago with a $29 "lip kit" consisting of a matching set of lipstick and lip liner and has sold more than $630 million worth of makeup since, including an estimated $330 million in 2017. Even using a conservative multiple, and applying our standard 20% discount, Forbes values her company, which has since added other cosmetics like eye shadow and concealer, at nearly $800 million. Jenner owns 100% of it.
Another year of growth will make her the youngest self-made billionaire ever, male or female, trumping Mark Zuckerberg, who became a billionaire at age 23. But like Zuckerberg, Kylie owes her success in part to social media as her cosmetics line is almost exclusively sold online. She has over 110 million followers on Instagram and millions more on Snapchat. She has 16.4 million who follow her company directly, or the 25.6 million who follow her on Twitter.
She is number 27 on Forbes' list of richest self-made women in America, leap-frogging Barbra Streisand ($400m), Beyonce Knowles ($335m) and Taylor Swift ($320m).
Jenner first rose to fame at the age of 10 when she appeared with her family on the reality TV show Keeping Up With The Kardashians.
On social media, some users scoffed at Forbes' use of the term "self-made", pointing out that Kylie Jenner's parents were already wealthy and famous. And the Forbes article also highlights Kris Jenner's active involvement in Kylie's business decisions from pushing Kylie to model for certain brands as well as manufacturing and marketing ones.