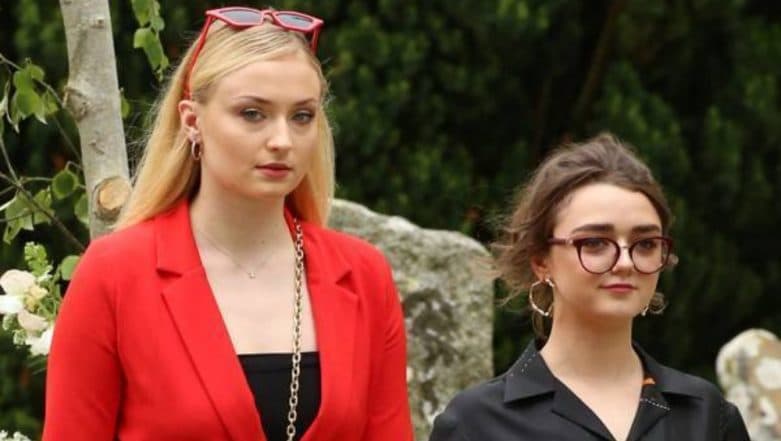 Sophie Turner and Maisie Williams are BFFs not just on the Game of Thrones set but outside too. Ever since the two got acquainted on the sets of Game of Thrones, they have been inseparable. And to keep themselves super entertained on the sets of Game of Thrones, they did some naughty things just to keep everyone around them on their toes!
In a conversation with Glamour UK, as the BFFs appeared on the cover of the magazine, they also spoke about the things they did on the sets of Game of Thrones to make people around them believe that they might be more than friends. Clarifying the fact that they are nothing more than best friends, Sophie revealed, "People always think Maisie and I are a couple. I mean, I am obsessed with her, so you never know … I've got an addiction to Maisie Williams. I actually stalk her hashtag on Instagram!"
Sophie Turner and Maisie Williams
View this post on Instagram
Turner further added, "Even though we are sisters [in Game of Thrones], we tried to sneak a kiss into every scene we did together to freak everyone out a bit. It kept them on their toes making sure they were following the script." Speaking to the magazine, Turner stated how Maisie means so much to her. She quoted, "Maisie is definitely my protector and I'm hers, too. I know if anything happened – especially if it was on Game Of Thrones, which it never, ever would – she'd go crazy and protect me… Maisie is my strong home."
Sophie Turner and Maisie Williams on the cover of Glamour UK
View this post on Instagram
Meanwhile, even Maisie had good words for Sophie who said, "Sophie knows too much about me to not be my friend. I can't tell you the amount of times Sophie said, 'Go to therapy' before I actually did. She really helped me through some messy break-ups and some friend break-ups. Whenever I'm like, 'I need help! This is bigger than anything I can sort out on my own,' Sophie is my point of call. I think therapy is so important. You should absolutely speak to someone, even if in your head you go, 'Yeah, I knew that!' " We'll soon be seeing the two as sisters in the final season of Game of Thrones, set to release on April 14.