It wouldn't be wrong to say online piracy is a disease that is carried out by parasites like TamilRockers, TamilGun, TamilYogi and other such illegal websites. A lot of blood and sweat is put into making a film, and the effort is increased manifold in case of a colossal movie like 2.0 (or Enthiran 2.0 or Robot 2.0)! S Shankar's latest release starring Rajinikanth and Akshay Kumar is the most expensive Indian film. But hours after the worldwide release at the box office on November 29, TamilRockers leaked 2.0 full movie in HD for free downloads and watch online options. What's more shocking is it dared to do after Madras High Court ordered to block illegal websites to prevent piracy issue. But the most disappointing bit comes from so-called movie buffs who are openly sharing 2.0 full movie links on Twitter. They are also teaching others on how to download Rajinikanth's 2.0 movie to watch online! Apparently, pirated prints of 2.0 in 1080p, 720p, 480p, 2.0 full movie 300mb dubbed in Hindi and so many more are available! WTMF. 2.0 Full Movie Download on TamilRockers, Watch Online Demand for Free on TamilGun & TamilYogi: Rajinikanth-Akshay Kumar's Film Face Major Online Piracy Threat.
One of 2018's most anticipated films, 2.0, the 'spiritual sequel' of 2010-film Enthiran released on Thursday. Lyca Productions understanding the sick trend of new movies becoming a victim of online piracy decided to take the legal route. Acting on their complaint, Madras High Court ruled to block 1200 websites that exhibit pirated versions of Tamil movies illegally on the internet. The producers also took to Twitter to make a heartfelt appeal to the fans to watch 2.0 film in theatres and not illegally. They wrote, "Hard work of 4 yrs, crores of money, efforts of 1000s of technicians - all to give you a visual spectacle you can watch, love and enjoy in THEATRES! Do not spoil the experience. SAY NO TO PIRACY! Send all pirated links to antipiracy@aiplex.com & help Tamil cinema shine!" Unfortunately, it seems to have fallen on deaf ears. 2.0 Full Movie Free Download Leak Threatened by Tamilrockers, TamilYogi & TamilGun Online! Madras HC Blocks 1200 Pirate Websites to Save Enthiran 2.0 Box Office Collections.
TamilRockers is believed to have leaked 2.0 full movie online. The pirated prints of Rajinikanth-Akshay Kumar film is reportedly all over the internet with many users claiming to have downloaded and watched it online. And, that too in full HD. It's terribly sad to see Twitterati openly sharing links of TamilRockers new url for easy access to 2.0 pirated versions to others. According to the screenshot posted by people who are claiming to have watched 2.0 film online, the movie is available in all these options - 2.0 (2018) Tamil HQ Proper PreDVD - TRUE Original Audio [1080p HQ-Pre-DVDRip - x264 - 2.5GB] - [720p HQ-Pre-DVDRip - x264 - 1.4GB] - [HQ-Pre-DVDRip - x264 - 1.4GB] - [HQ-Pre-DVDRip - x264 - 700MB] - [HQ-Pre-DVDRip - XviD - MP3 - 700MB] - [HQ-Pre-DVDRip - x264 - 400MB] - [HQ-Pre-DVDRip - x264 - 250MB]. Enthiran 2.0 Movie Cast: Rajinikanth As Chitti, Akshay Kumar As Pakshi Rajan and Amy Jackson As Robot Nila – Full List of Character Names.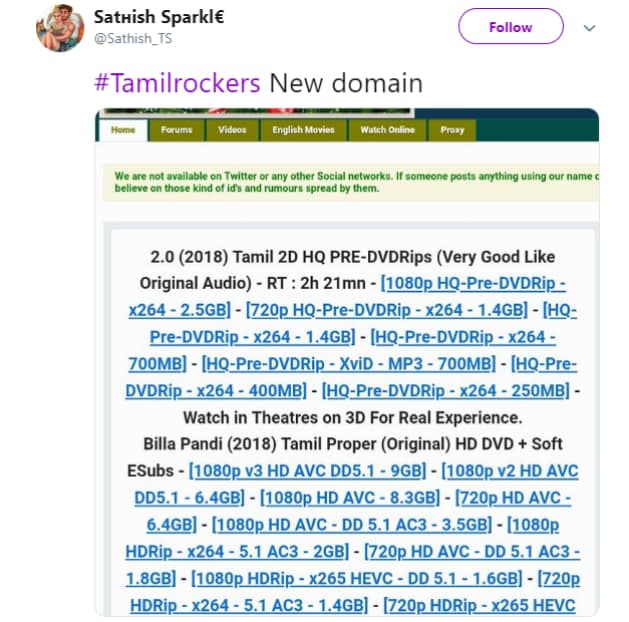 Earlier, 2.0 movie download in tamilrockers bz, 2.0 movie download in Hindi rockers bz, 2.0 full HD movie download, 2.0 full movie download in Hindi 720p free download, 2.0 full HD movie download in Hindi, 2.0 full movie download online, 2.0 full movie watch online free HD, robot 2.0 full movie watch, 2.0 full movie watch online download, Enthiran 2.0 full movie in Tamil, Enthiran 2.0 movie download tamilrockers, robot 2.0 movie download in Hindi filmyzilla, 2.0 movie download in 720p TamilRockers, 2.0 movie download in 1080p TamilRockers, 2.0 full movie in Hindi download 480p, and more keyword are being searched on search engines, video streaming options, social media platforms like crazy.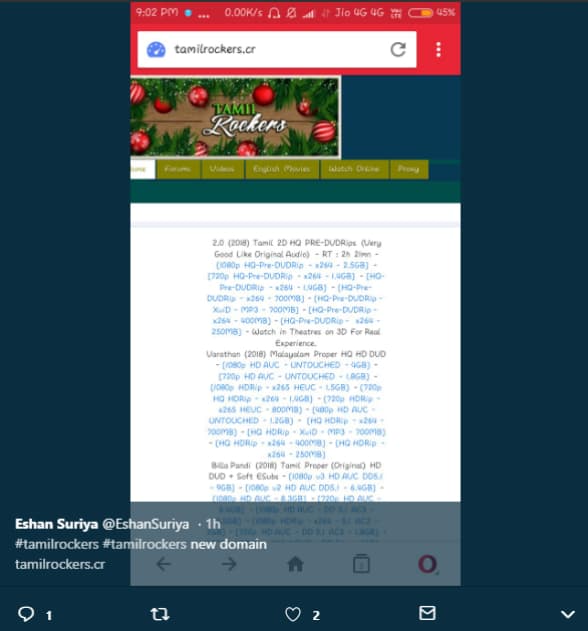 Watch 2.0 Official Trailer [Hindi] Starring Rajinikanth and Akshay Kumar
One has to see how much of a damage this tsunami of piracy will do to 2.0 film's box office collection. So far, Rajinikanth, Akshay Kumar and Amy Jackson's movie is doing great after getting off to a flying start. 2.0 film's Hindi dubbed version of the movie has earned Rs 38.25 crore in two days. It had 2.0 grossed a combined total of Rs 21.5 crore in Telangana and Andhra Pradesh on its opening day. The total box office collection of 2.0 currently stands at Rs 111.5 crore, minus the day two earnings in Tamil and Telugu versions. Not Bad, Thalaiva and Khiladi Kumar!