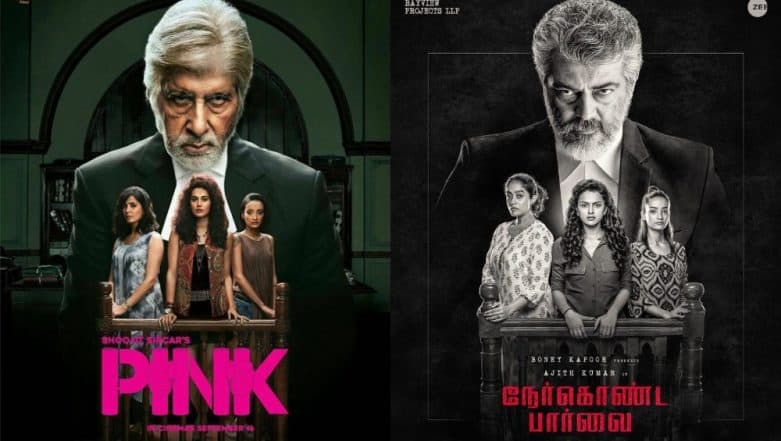 Ajith Kumar's Nerkonda Paarvai, a remake of Amitabh Bachchan's Pink, has been very well received. Considering how the film speaks of a very essential and sensitive subject, the way the Tamil remake justified it's stance and relevance to the society has been done to perfection. Despite being a remake though, the film did have some additions and editions since they cannot completely rip off a film without adding a touch of their own filmmaking. With that freedom, H Vinoth, the director, added a few sequences that were not explored in the original Shoojit Sircar film. Nerkonda Paarvai Movie Review: Thala Ajith Delivers A Fantastic Performance In PINK Remake That Stays True To The Original
Well, the article does have spoilers since we will be revealing sequences that differ from the original film but holds pertinence to the script. Read on to find out. Nerkonda Paarvai: After PINK Remake, 5 Movies of Thala Ajith That Should Be Remade in Bollywood (And Who Should Play Him)
Nerkonda Paarvai trailer -
- Emphasis on Ajith's character suffering from bipolar disorder and acute depression
While it was stated in the original Pink movie that lawyer Deepak Sehgal suffered from bipolar disorder, it didn't hold any relevance to the case or the film. However, in Ajith's Nerkonda Paarvai, more details pertaining to lawyer Bharat Subramanian is explained. His mental condition is relevant to the case as it showcases the difficulty he faces while dealing with his arguments to defend the girls. It fits perfectly with the script.
- Fight sequence 
Right after Adhik's uncle finds out about Bharat's involvement in the case, he tries to nip it in the bud by trying to threaten him. But that backfires as Bharat goes on a rampage and beats the goons to a pulp. This further validates his bipolar disorder and why his pills are necessary. Again, very well placed in the script.
- Ajith and Vidya Balan's romance and his past 
To further justify what brought about these mental concerns in Bharat's life, the filmmaker took the liberty to divulge into the details of his personal life and past. It is explained how he ended up suffering from depression and bipolar disorder and why he must be constantly kept on his pills. Not to mention how and why his temper should not be played with.
- Importance of Delhi Ganesh's role 
Delhi Ganesh has a very small cameo where he only appears in the courtroom as Meera's (Shraddha Sridhar) father. The fact that Meera has to deal with questions that define her character in a courtroom, that too in the presence of her father, is heartwrenching. Delhi Ganesh says nothing, doesn't even point a finger at his daughter. But his mere presence plays a very pivotal role in shaping the sentiments of parents with daughters. It's beautiful in its own simplistic way.
- Tweaked sequence concerning the protagonist's kidnapping 
The most disturbing sequence in the entire film, Pink and Nerkonda Paarvai, is the kidnapping scene. Basically, the one where Meera is kidnapped, molested and threatened. Although in the original film, lawyer Deepak Sehgal takes down the car number and tries to call up his contacts to ensure the safety of Minal (Taapsee Pannu), in Nerkonda Paarvai, after Meera (Shraddha Sridhar) gets kidnapped, lawyer Bharat Subramanian's help notices it and calls the helpline number. Instead of waiting, Bharat immediately takes his jeep out and starts looking for the car that abducted Meera.