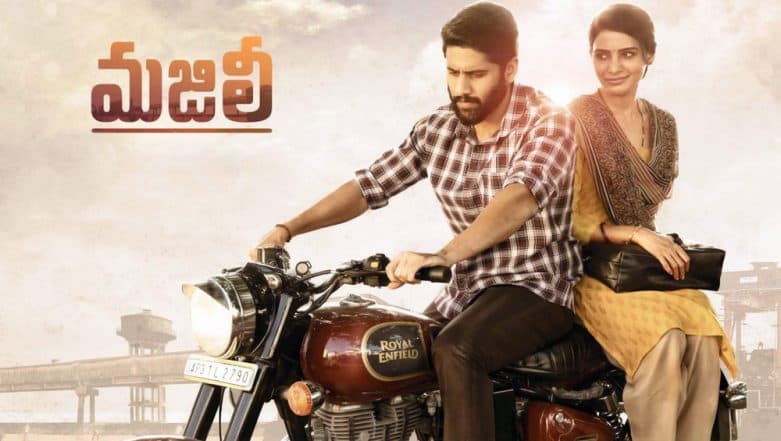 Samantha Akkineni and Naga Chaitanya's much-anticipated film Majili has finally hit the big screens today (April 5). For those who don't know, this is the first the film that the couple has done post their marriage. It was one of the most-awaited films of ChaySam (as they are referred by fans), to watch their chemistry onscreen post-wedding. Directed by Shiva Nirvana, there are many who have headed to watch the first day first show of this Telugu romantic drama, and there are few Twitterati who have also shared their reviews post watching the film. Some have shared reviews of the first half, whilst there are few who have watched the full film. And the similarity is, these Twitterati are going gaga over the couple's brilliant performance in the film. Let's take a look at some of the reviews. Samantha Akkineni REACTS To Husband Naga Chaitanya's Passionate Kiss With Majili Co-Star Divyansha Kaushik.
Tweet #1
Agni Saakshiga Thaali Kattina Bharya ni Sir @Samanthaprabhu2 whistles whistles for this dialogue in theater.

The lady superstar who can pull crowds with her outstanding and terrific performance and once again proved that she climbed one more step with #Majili as an actress. pic.twitter.com/KaE4B0cczr

— Preety ❤️😘 (@kajal_preety) April 5, 2019
Tweet #2
Must... Watch @Samanthaprabhu2 acted too good in emotional scenes👌...@chay_akkineni superb performance@MusicThaman bgm is big asset to the film especially emotional scenes ✊🏻👌....

Finally i see the best Movie long time.....

— abhi singh (@abhi73745082) April 5, 2019
Tweet #3
The cricket match background music by @MusicThaman gives an enthralling experience @chay_akkineni looks uber cool #Majili

— #MajiliDay (@UrsVamsiShekar) April 5, 2019
Tweet #4
Just watched chaysam blockbuster #Majili

— Nagfan (@Nagfan4) April 5, 2019
Tweet #5
#Majili Fantastic first half!

Scenes between #NagaChaitanya and #Divyansha is a surprise, Poorna and Anshu 👌👌👌

Solid story!

Seems like a big break for @chay_akkineni is happening.#ChayRampageBegins 🤙🤙

— Krishna Akkineni Fan 🇮🇳 (@YuvaSamratNC) April 5, 2019
Tweet #6
12. #Majili Direction, BGM, Chaitanya, Screenplay, Posani, Rao Ramesh & Samantha - is my ranking.

First half is Samantha's film career. Second half is Naga Chaitanya's film career. But together as ChaySam they are fantastic.

Similarly Majili is a 3.5/5 over all 👌🏼Watch it. pic.twitter.com/RACt3aZlBX

— Theju 🌸 (@PinkCancerian) April 5, 2019
Tweet #7
Just watched the emotional ride of Majili..arguably NC's best performance till date supported by super acting from Sam..BGM by Thaman is top notch..go enjoy the beautiful film.. Blockbuster written all over it.. #Majili@chay_akkineni @Samanthaprabhu2 @MusicThaman

— Aditya (@iadityashankar) April 5, 2019
Watch the trailer of Majili below:
The film's title Majili means 'A part of Journey'. In the teaser and trailer of the film we saw how was Naga Chaitanya's life before and after marriage. We saw Samantha Akkineni playing the role of a supportive wife. It was indeed a heartwarming chemistry, and who wouldn't love to watch such a lovely couple together on the big screens? So if you have watched Majili, do share your views with us in the comments box below.