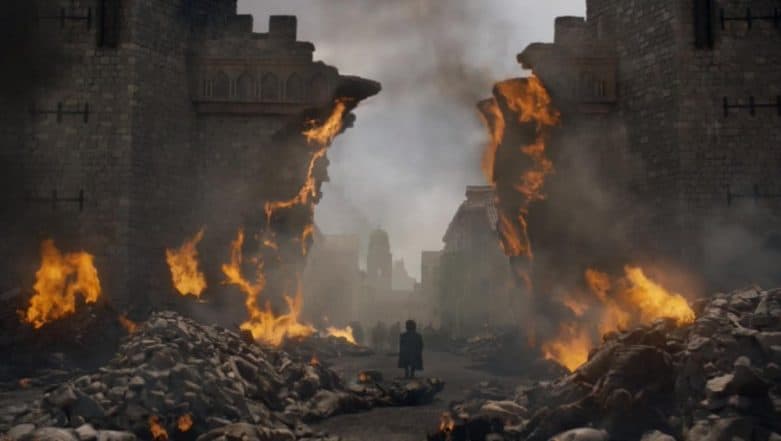 HBO's Game of Thrones is currently at its finale season and the biggest show in the history of television across the globe will come to an end tomorrow. The anticipations for the episode are sky high and the tension that circles the show is nail-biting horrific. However, when such a big show is about to cast its magic on the world, the sword of leaks hang right above us. Proving it right, the finale episode of the final season of GoT has been allegedly leaked online. According to reports, there are no clips from the upcoming episode, but the text description has been circulated across social media platforms and Reddit. Game of Thrones Season 8 Finale: Daenerys Targaryen, Jon Snow, Tyrion Lannister, Arya Stark – Who Lives and Who Dies?
As much as it breaks our hearts, it is also enraging. The long, long wait of years goes in vain and who is to blame? According to Independent, the spoilers from the sixth episode have already been leaked before the second last episode was broadcasted. The details of the leak were so accurate, that the fans cannot help themselves from believing the details of the upcoming episode as well.
As per the reports, the moderators on Reddit attempted to remove the spoilers, but the text was copied multiple times and was circulated before they could put an end to it. The finale episode is expected to be larger than life and the expectations are beyond limits. The sixth episode will be 80 minutes long. Game of Thrones Season 8 Final Episodes Leak: Fans Irked With Conclusion In Ep 5 And Ep 6 Leaked Scenes, Say 'Worst Ending Ever'
With disturbing turn-of-events and many incomplete wishes, the finale season will come to an end tomorrow, and it breaks our hearts understanding the fact that there will be no GoT ever. Many fans were highly disappointed by the destiny or rather death of many characters, including Cersei Lannister and Jammie Lannister, among others. The transformation of the Mother of Dragons Queen Daenerys Targaryen to the Mad Queen and Jon Snow's inability to do anything, is attracting rage from a huge audience base. Well, the final bloodshed is yet to come and we have fastened our seat belts, along with a pressed emotional availability, to witness what GoT makers have in store for us.