Riverdale, that airs on CW (on Netflix for Indian viewers) is a strange concoction of a show. Based on the popular Archie comics, the series, Riverdale borrows the characters and the setting, but ditches the cheerfulness of the comics to take a darker path, filled with betrayals, sex and murder. In the past three seasons, we have to see Archie and the gang deal with some weird stuff, that range from dead siblings, to serial killers to men dressed like trees and going on a murder spree. While beautifully photographed and ably enacted by the cast, most of the bizarre themes of Riverdale raises enough intrigue, but doesn't stick well with the narrative. Lili Reinhart Birthday Special: 10 Pictures of the Riverdale Star to Make You Fall in Love With Her Style and Beauty.
Then something tragic happened in the third season of the show. Actor Luke Perry, who portrays Fred Andrews (Archie's dad) on the show, passed away, leaving the fans shocked and heartbroken. The actor, earlier known for his starring role in Beverly Hills, 90210, was left to shoot certain portions before his demise happened, and the rest of the episodes of the third season, inexplicably kept him out of action. Instead, actress Molly Ringwald, who plays recurring Mary Andrews (Fred's wife and Archie's mom), was given more spotlight. Luke Perry Passes Away at 52; Riverdale Co-Stars Lili Reinhart, Molly Ringwald and Others Mourn His Loss.
Fred Andrews was one of the most likeable characters on Riverdale, because he was one of the rare few-goodhearted persons in that creepy town. So we wondered how Riverdale would try to write off the character in a manner befitting his legacy. (SPOILERS AHEAD)
That answer came in the first episode of recently launched season 4, that entirely focused on playing an 'In Memorium' tribute to both Luke Perry and the character he is playing. In the process, we get one of the best episodes of the show, that ditched its bizarre themes to focus more on interpersonal relationships and how significant Fred Andrews was to Riverdale the town and to its residents. So much that even the devious Mr Lodge sponsored the entire costs fo Fred's funeral.
There have been some very bittersweet moments in the episode that stays with you even after it is over. Archie's reaction when he gets that call informing his father's demise is truly heartbreaking. And so is his reaction to the nightmare he sees of his grandfather telling him that he hasn't brought his father home yet.
The scene where Archie and his friends - Betty, Jughead and Veronica - meets the lady, whom Fred was helping when the accident that killed him happened, is another emotional moment in the episode. Like Archie, we also realise that Fred died the hero that he was always - he gets hit by the car while trying to push the lady out of the way.
Some other notable scenes were when Archie brings Fred's body back in Reggie's hearse, and the entire Riverdale town comes to 'welcome' them. Archie's eulogy at the funeral about how his father was involved in every building that made Riverdale, will tug at your heartstrings.
Welcome home, Fred. #Riverdale pic.twitter.com/bzZ6kRythF

— E! News (@enews) October 10, 2019
Your heart will be made of stone if your eyes don't moist when Cheryl Blossom unexpectedly breaks down at the funeral. It is as if the actress Madelaine Petsch is reacting to the real news of Luke Perry's death. Or when FP Jones's tough exterior becomes brittle on hearing about his dear friend's demise.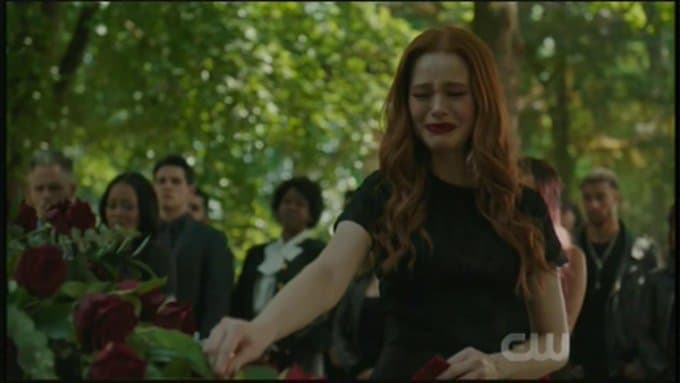 But the one scene that truly let the tears out for me was Jughead's obituary for Fred in the newspaper. It is a heartrending ode to a much-loved character, with the montage of the other main characters shown reading it and reacting appropriately, including Hermione Lodge and Alice Cooper tearing upon reading it.
this bit honestly cut straight to my core #riverdale pic.twitter.com/K2ogoV7jYR

— 𝐬𝐩𝐨𝐨𝐤𝐲 𝐥𝐢𝐯 ☽ (@ALICESMlTHS) October 10, 2019
The scene where the gang, along with Archie's mom, camp up in the Andrews' backyard and watch July 4 fireworks, to relive an old memory of Archie and his father, is exactly what makes you love this gang, despite its tendency to go eccentric.
What's more, I like the way how the episode treats Archie Andrews. Being a huge fan of the comic-book character, I was miffed with how Riverdale treats him like an unwanted protagonist in his own show, making really irresponsible and stupid decisions at times. Even in this episode, we get to see Archie's rash side as he barges in the house of the man who is accused of killing his father.
But the turn of events there, that made Archie contemplate his own relationship with his father, makes us look at a hitherto unseen mature side of the character that is very rarely explored in the series. While all the actors are excellent as always, especially Cole Sprouse, Lili Reinhart, and Madelaine Petsch, KJ Apa stands out here with the finest display of acting I have seen from him in the entire series.
I just hope that the newly found mature turn that Archie has adopted sticks till the end of the series, which by the looks of its next episode promo, is going back to being weird.
It is not just about Riverdale playing tribute to a very likeable character (and actor) that made me like the episode. It is how, without any need to create a strange mystery, the show excels by relying on the core competency what makes it tick - the terrific chemistry of its cast. By focussing on characters bonding with each other through thick and thin, Riverdale managed to bring the kind of emotional strength in the show that no amount of chasing after gryphons and gargoyles could bring.
Rest in Peace, Luke Perry! And here's hoping that the future of Riverdale manages to live upto your legacy by not bringing down the bar that season 4 has managed to raise with its beginning.
(The above story first appeared on LatestLY on Oct 11, 2019 06:00 PM IST. For more news and updates on politics, world, sports, entertainment and lifestyle, log on to our website latestly.com).