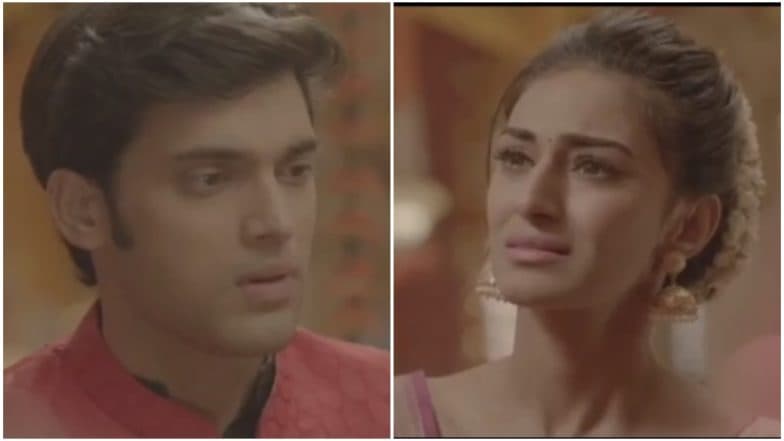 Today's episode of Kasautii Zindagii Kay 2 starts with Naveen telling Komolika that he will not leave Anurag (Parth Samthaan) as he has taken Prerna (Erica Fernandes) inside the Hoogly jungle and swears that he will kill Anurag. Komolika gets tensed and says no but Naveen disconnects the phone. Komolika shows Anurag's photo to her men and tells him that he should go to the Hoogly jungle now and bring Anurag Basu safe and do whatever they want to do with Prerna but Anurag should not be harmed. Mishka sees this and is worried.
There in the jungle, Naveen sees a piece of Prerna's saree and says that they must have gone to the temple which is nearby and tells his men to follow him. Anurag is putting ointment in Prerna's leg. Prerna gets emotional and tells Anurag that why is he doing this, earlier also he was in trouble saving her from Naveen and this time too he is playing with his life. Anurag tells he is an idiot and that he never understood what he wanted and never thought this all will happen to him and see it happened. Prerna asks what happened. Anurag says that when she is near him his heart beats fast and when she is not around he searches for her and he wants to see her laugh and when she cries he feels very unhappy and says why. Prerna tells Anurag to tell what exactly he wants to say. Anurag tells her how should he tell her and why is she not understanding. Anurag tells her that she has only thought him how to love anyone and to forget everything in front of anyone. Anurag holds Prerna and tells that he loves her and that he is incomplete without her and he can't live without her. Anurag tells that he does not know what she feels may be only he feels like this and says he is sorry if he hurt her feelings. Prerna says without saying also he should understand seeing her eyes that she loves him too and was never able to say it. Prerna tells Anurag she loves more than he does and they both hug each other (dil mein hu tum ankhun mein tum track is played in the background)
Mishka tells Komolika does she remember that she had told her that she does not have any fear from her side regarding Anurag. Mishka tells from childhood whenever she believed Komolika it proved to be wrong and once again she did the same thing. Komolika shouts at Mishka and tells one should fight for the thing which is there and not for the thing which is not there's. Komolika tells Mishka that she is a stupid girl and how she thought that she can marry Anurag when she likes him. Komolika tells that the way he ignores her she loves it and that is the quality she fell for. Komolika tells Mishka that she tried to be far from Anurag but he is not made for her and that Mishka should leave him for her. Mishka tells that she hates her. Komolika warns Mishka that she should not come in between her and Anurag and goes from there. Is Hina Khan Leaving Kasautii Zindagii Kay 2? Hear it From the Horse's Mouth!
In the temple, Prerna starts crying and tells that she is happy and sad also, Anurag asks why she is happy, Prerna says that happy as he also loves her and sad as she feels that they won't be able to stay together. Prerna tells that there are so many people who are between them about whom they have to think first. Prerna says that before Naveen was there between them and now Mishka is in his life. Prerna says that she is feeling afraid that they will not be together. Anurag says whatever problem or tests come in between them they should stand for each other. Anurag tells that they are in a temple and they have told their feelings for each other and takes the sindoor from the god's feet and tells Prerna that they are meant to be together and promise Prerna that in good or bad times he will always be with her and puts sindoor in her forehead. Anurag tells Prerna that give him one week and he will make everything right and talk to everyone for her and that he is clear now that his heart beats for him. Anurag tells Prerna that she will soon be Prerna Basu and hugs her.
In the precap, In the temple, Naveen comes and sees Prerna and Anurag in each other's arm.