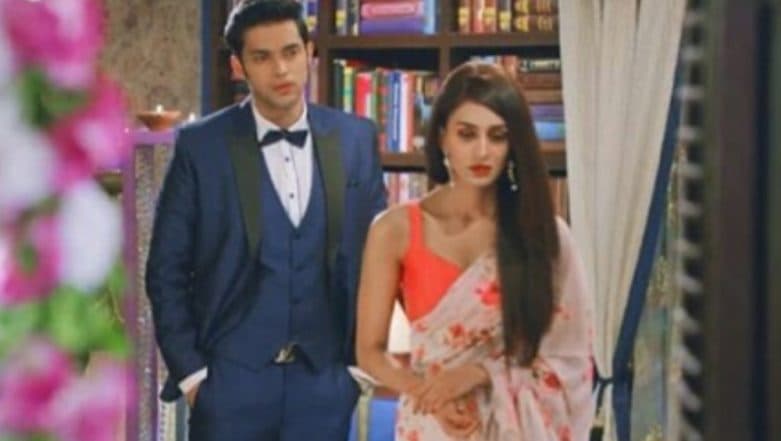 Today's episode of Kasautii Zindagii Kay 2 starts with Prerna (Erica Fernandes) telling Mohini that she is her daughter-in-law and before coming here she has done a lot of homework and that from her husband's life and his house no one can take her out. Prerna says that she is tired and asks where is her husband's room and goes there. While going she sees Anurag (Parth Samthaan) and remembers all about her and Anurag (Jaan she lag gayi jaan ki yaaiya track is played in the background). Prerna sees that the room is all decorated and picks a photo of Anurag and says that he lied with her and with her emotions and she has come to give the answer to all of it and that he will also suffer as she did. Kasautii Zindagii Kay 2 March 12, 2019 Written Update Full Episode: Anurag Tries Hard to Push Prerna Away from Him While Komolika Plans for a Honeymoon
There Anurag thinks that he cannot be soft with Prerna as then Komolika will be a threat to her. Komolika (Hina Khan) asks everyone what are they going to do now and that her tolerance is over now. Anurag thinks this is the right moment to support Komolika and says that it is all his fault as he married Prerna but... Mohini intervenes and tells Komolika that she is only Basu families daughter-in-law and Anurag's wife and tells to give her some time and she will find out a solution for it. Anurag goes from there.
Meanwhile upstairs Prerna flashbacks everything that happened between her and Anurag and becomes emotional and burns the handkerchief which Anurag had given and says all his words were fake and he hurt her very much. There Anurag things like thorn bird story his love life is also going and he is dying because of his love and to save Prerna. Kasautii Zindagii Kay 2 SPOILER ALERT: Prerna's Entry in Basu Mansion and Her New Avatar Leaves Everyone Speechless – Watch Videos
There Suman comes and tells Veena that she has not done right giving so much freedom to Prerna even after she married without her permission and is staying in Basu house, but Shekar says that Veena has done the right thing by supporting Prerna. Shivani says it does not affect them at all till their mother is with them in their every decision and that Veena has taught them to fight for their rights. Veena tells them that Prerna is alone now and she needs our support and we all should stand with her.
Komolika comes in Anurag's room to take her stuff, Prerna says that she wanted to ask something and tells that she met Komolika first time when Mishka and Anurag where being engaged and how she came between them, Komolika says she is not interested in talking to her and had come to take her jewellry box. Prerna says it means she didn't even spare her own sister and tell her to take her all belongings and to tell Anurag to come here. Anupam comes and asks why he is silent till now and that now Prerna is his wife and takes him to his room to talk. Anupam tells that today Prerna is fighting for her rights alone and why is he not supporting her.
Anurag gets irritated and tells him to stop talking all that and says that more than his happiness he is scared for Prerna's security. Anupam ask what does he mean by that, Anurag says that if he holds Prerna's hand then Komolika can go to any extent and that will be dangerous for Prerna. Anurag says that all their family property, their house everything is directly or indirectly mortgaged with Komolika. Anurag says even Prerna's house paper's deed also is with her and she can bring them to road any day. Anurag says that he had signed a contract with Komolika that after marriage he cannot divorce her in return for the favour she has done. Kasautii Zindagii Kay 2: Hina Khan and Erica Fernandes Exchange Cold Vibes on Sets? Here's What the Latter Has to Say
Anurag says he did this all for their family and for Prerna and tells about the boy who had told about how dangerous Komolika is and she does not live a person until he starts loving her and the time when he loves she leaves him and goes away from his life. Anurag says this the reason he is supporting Komolika and showing care for her and that he will go so near to her that she will start hating him and go from his life. Anurag says his failure and Komolika's victory is the only way out for all the problems.
There Komolika is telling Nivedita and Mohini that how dare Prerna treat her as a maid and give the order to send Anurag in her room and that she has ruined her married life and her all functions. Mohini gets angry listening to this all and ask if she wants to go for a honeymoon with Anurag and tells her to make Anurag her's before coming back. In the precap, Anurag is telling Komolika that they will go for their honeymoon. Komolika goes and tells this news to Prerna but she says that she won't allow this to happen.