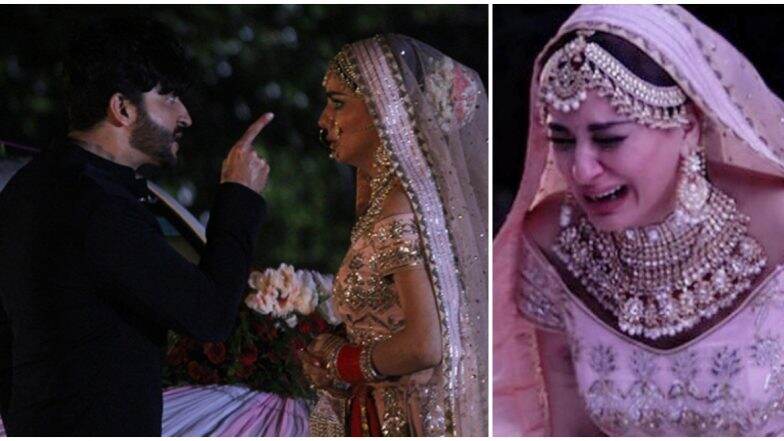 All you Karan Luthra (Dheeraj Dhoopar) and Preeta Arora (Shraddha Arya) fans, don't get too excited, now that Kundali Bhagya's lead pair have tied the knot and gifted fans an adorable proposal scene. For their dreams are all set to shatter soon. After a lot of back and forth before and during the wedding, not only did Karan manage to marry Preeta, but also confessed his feelings in true filmy style, by going down on one knee. After a tearful bidaai, Karan whisks Preeta away in his car and all this while, Preeta very reluctantly but happily accepts that she did finally marry the person she wanted to and keeps looking at Karan while reminiscing their good moments... BARC Report Week 35, 2019: Kundali Bhagya Fans Should Rejoice Again As It Tops the List While Tujhse Hai Raabta Enters Top 5
... not knowing all this while that her dreams of a 'happily ever after' are all set to shatter.
Until now, while it was seeming that Karan believed Preeta to be innocent, it turns out that he too blames her for his father Mahesh's comatose state. And he makes sure to let Preeta know the same. Karan stops their car mid-way and asks Preeta to get down and tells her that he wants to talk to her about his feelings. Kundali Bhagya Ganesh Chaturthi Special: Preeta Gets Kidnapped, Karan Gets Slashed With A Sword! (Watch Video)
He then unleashes his anger on her and tells her that Mahesh's condition is because of her and that he married her, so as to insult her and bring shame to her family. Karan then drives off, leaving Preeta stranded in the middle of nowhere and the broken lady is seen walking back to her maayka, where a puzzled Sarla and family console her. Well, what's a wedding without some drama eh..!?