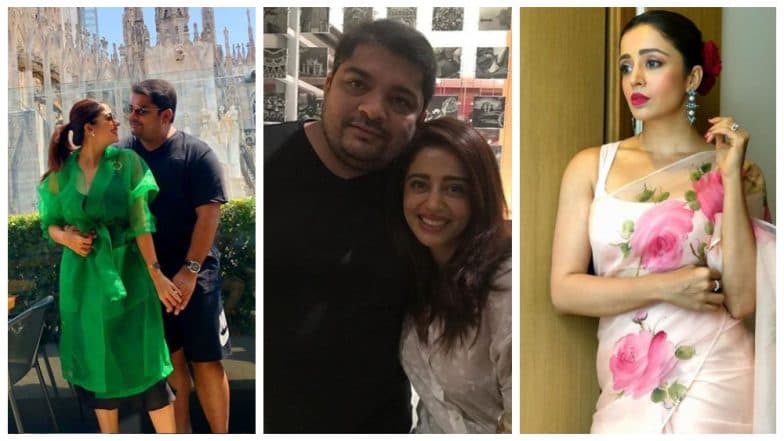 Back in the month of August, actress Nehha Pendse, whose last outing on television was Bigg Boss 12, revealed to the entire world that she had a man in her life. She posted a photo of her fiance, businessman Shardul Singh Bayas and announced to the entire world that she was in love. And going by posts on both Nehha and Shardul's social media accounts, it was evident that their respective families had met and that the pair was accepted into each other's lives. Bigg Boss 12's Nehha Pendse Finds Love In Shardul Bayas; To Get Engaged Next Year!
However, what followed along with congratulatory messages on Nehha's social media, were trolls, that soon started commenting on Shardul's weight and started trolling the pair for their appearances.
View this post on Instagram
Nehha who is used to getting trolled for her weight and for giving it back to them once again hit back at trolls for targetting her fiance. "I want to ask the trolls, 'Dude do you know how happy that man makes me? And who are you to decide whether he is the right man for me or not?' I understand most of this negativity comes from frustration, half of it from the urge for attention and rest from the lack of purpose in life. In Shardul, I have found the real love of my life after a long wait and I'm not going to give him up for these trolls," said Nehha, while speaking to BT. Bigg Boss 12: Exclusive! 'I Might Go Back As A Wild Card'; Says Nehha Pendse After Getting Eliminated
She also went on to add, "As it is, he/she may be battling certain physical, emotional or health problems. And Shardul is not even from the entertainment industry, he is a businessman, so it was absolutely ridiculous to troll him."
View this post on Instagram
When quizzed on her marriage plans, Nehha revealed that the date has been set for 2020. "It will be a Maharashtrian wedding that will happen in early 2020; I plan to wear a saree for the main rituals. This is what we are looking at right now." However, the pair is yet to decide on their honeymoon destination and revealed that she wants it to be something unusual and not run-of-the-mill. Well, stay tuned, while the bride-to-be reveals more about her wedding preparations.