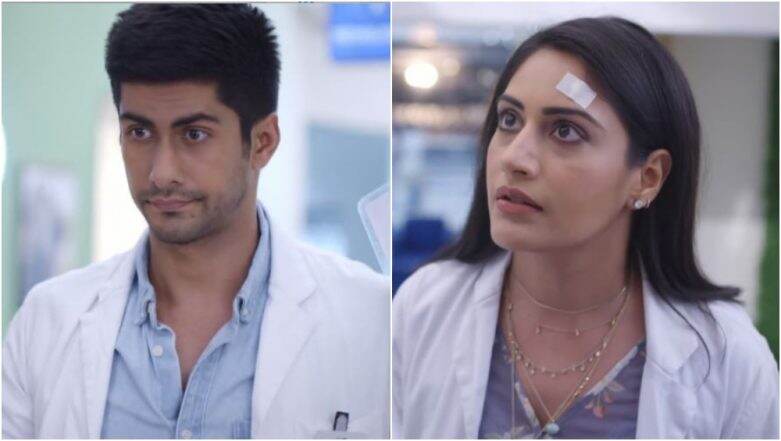 In yesterday's episode of Sanjivani 2, we saw Dr Shashank gets discharged while Ishani makes an unexpected request to Juhi. Later, Ishani is hurt when a patient's husband makes some harsh accusations. Tonight's episode starts with Asha telling Ishani (Surbhi Chandna) that she is very talented and that none can judge her for her parents' deeds. Aman comes and asks who hates her, see even Preeti wants to support her. Preeti says she will always stand for her. Sid (Namit Khanna) confronts Rishabh and asks him why did he put up those posters? Rishabh says he did nothing. Sid says he will convince Ishani and bring her back to his team. But Rishab says it is not possible as she will not be working in Sanjivani anymore. Sanjivani 2 September 9, 2019 Written Update Full Episode: Anjali and Ishani Get Slapped By A Patient's Kin, Shashank Urges Sid To Prove His Innocence!
Meanwhile, Shashank (Mohnish Behl) asks Juhi if the patient's husband slapped his daughter. Juhi (Gurdeep Kohli) says he slapped Ishani also and says that they are crying for the baby who wasn't there, their hope died today. They see Rajat and Meenakshi crying. Juhi says he got angry knowing someone slapped Anjali, if he learns to express love to Anjali, his problem will get solved. Shashank says he feels good that she knows about his family, but asks Juhi about why she hides everything about herself and asks how is Dr. Rahul? Juhi goes silent.
Later, Rishabh declares that the petition has been filed and that everyone signed in favour of Ishani being fired from Sanjivani. Rishabh sees Ishani at the door and says he can't sign the petition and turns the game on Sid. He questions Sid about why is he doing this, first he pasted the posters and got her insulted, now he wants to file this petition. Sid is shocked by his changed reaction and see Ishani who is standing near the door. Ishani asks him first he gives a wound and then asks the reason, and says that she made a huge mistake by trusting him. Sid says he didn't make the petition. Ishani tells him to stay away from her and goes. Sanjivani 2 September 6, 2019 Written Update Full Episode: Vardhan Creates A Misunderstanding Between Sid And Ishani, The Latter's Dark Part Is Revealed To All!
On the other hand, Juhi asks Anjali to forget the matter but Vardhan provokes her and tells her that they will resolve the matter in court. Just then Ishani comes and says she does not want to file any complaint on anyone. Later, Rishabh tells Ishani, that this should not have happened, and she can join his team if she wants, She says thanks and says that she will try not to break his trust. He tells her to go through Veronica's case.
Meanwhile, Shashank comes and tells Anjali not to file a case and brings Rajat with him who apologizes for his fault, Anjali assures him that she will not file any case. Later Sid meets Ishani and asks her not to leave his team. He tries to convince her that someone plotted against them to separate them. Ishani tells Sid him that she was never with him and leaves. Rishabh comes and tries to provoke Sid, he fights with him. Ishani comes and stops him and tells him to behave as they are in Sanjivani. Sid thinks he has to talk to Ishani and prove his innocence.  Later, Ishani discusses the patient who is coming but Rishab tells her to do what he says and tells her that Veronica is a golden hen for him.
On the other hand,  Sid plots to meet Ishani alone and tells her to come in the ambulance. When Ishani comes to know that it is Sid and not Rishabh she asks the driver to stop the ambulance or else she will complain to Shashank, Sid requests her to listen to him once.
In the next episode, Sid says he didn't do anything. Ishani tells him that he ruined her life. Later, Rishabh tells Ishani, he does not want her in his team and everyone asks Ishani to leave. She cries.