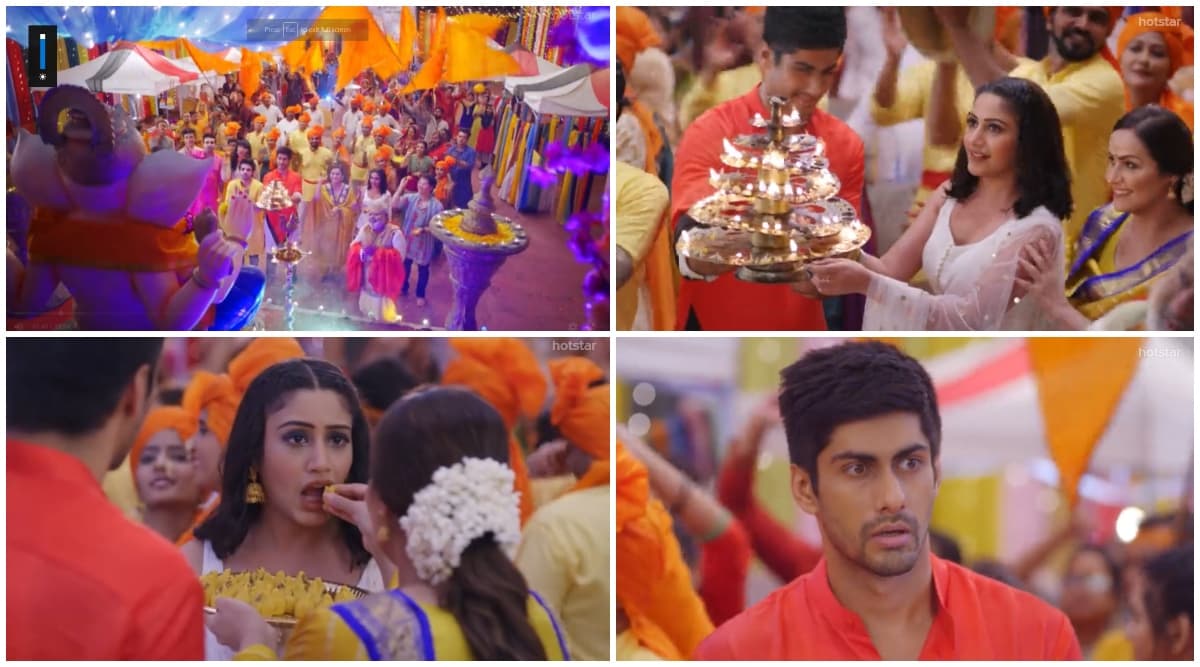 In yesterday's episode of Sanjivani 2, we saw Dr Shashank slap Anjali for humiliating him while Ishani on the other hand, befriends Sid. Later, the Sanjivani team celebrates Ganesh Chaturthi in high spirits. Tonight's episode starts with Juhi (Gurdeep Kohli) asking Shashank (Mohnish Behl) what does he wants to say. He says whatever Anjali said… She says that she should have taken legal action against him as she was living in guilt for so many years that she made a mistake and leaves. Sanjivani 2 September 17, 2019 Written Update Full Episode: Dr Juhi Is Shocked to Know the Real Reason Behind Her Termination From Sanjivani!
Back at Sid's (Namit Khanna) place, he does aarti and gives it to Ishani (Surbhi Chandna). Everyone does aarti. Meanwhile, Shashank asks Anjali where was she since morning and says that he should not have slapped him but her childish behaviour was unacceptable. They argue with each other. Just then the nurse comes and tells Shashank that one of his friends Ashish is asking for him as his wife has fallen down and that Dr Rishabh is attending to her.
Sid dances with everyone. Later Sid's mum accidentally feeds Ishani and Sid tells her that she is a germaphobe. However, Ishani shocks himself and Sid when she asks his mother to feed her more prasad and gets emotional and happy.
Meanwhile, Shashank comes to meet Ashish. He says it's been so many years, we got old. Ashish says he is looking very handsome. Shashank asks what happened to Nandini. Juhi comes to greet them. Ashish says he read her articles and heard a lot about her from Shashank. Ashish says Nandini fell down while cleaning the house. Nandini says she is fine now. Rishabh says there is no doubt for any brain damage. Shashank says all good, we should clear doubt about internal injuries, it gets late until we know about it. Ashish says he is standing here in front of the top two neurosurgeons and asks will his wife get fine. Shashank jokes and hugs him. Sanjivani 2 September 18, 2019 Preview: Sid Gets Assaulted By Local Goons, Ishani Treats Him!
Back at the Ganpati pandal Sid dances with everyone and so does Ishani. Meanwhile, Juhi comes to Shashank's cabin and asks him that she needs to check his vitals as he should be medically fit for the surgery. Shashank asks her if she is still upset with him. She checks his BP. Later after all the tests are done, she says he is fit for performing the surgery. He asks can we sit and talk. Just then the Nurse comes and says Nandini's condition is getting worse, she is vomiting, come fast.
On the other hand, Aman says it's so much fun at the pandal. Sid's mother applies colors to Ishani's face and she does not even flinch. Ishani thinks what's happening to her as she is liking all of this. She dances with the women. Sid goes dancing with her. Ishani pulls him and dances with him. Sid takes her aside from the crowd. He asks her to stand on the stage and get the view. Meanwhile, when Asha plays the dhol, a drunkard man falls over her and starts troubling. Ishani runs to save Asha and while Aman, Neil, and Rahil push the man away, Ishani slaps him. 
In the next episode, Sid fights the goons but is overpowered and gets beaten up.