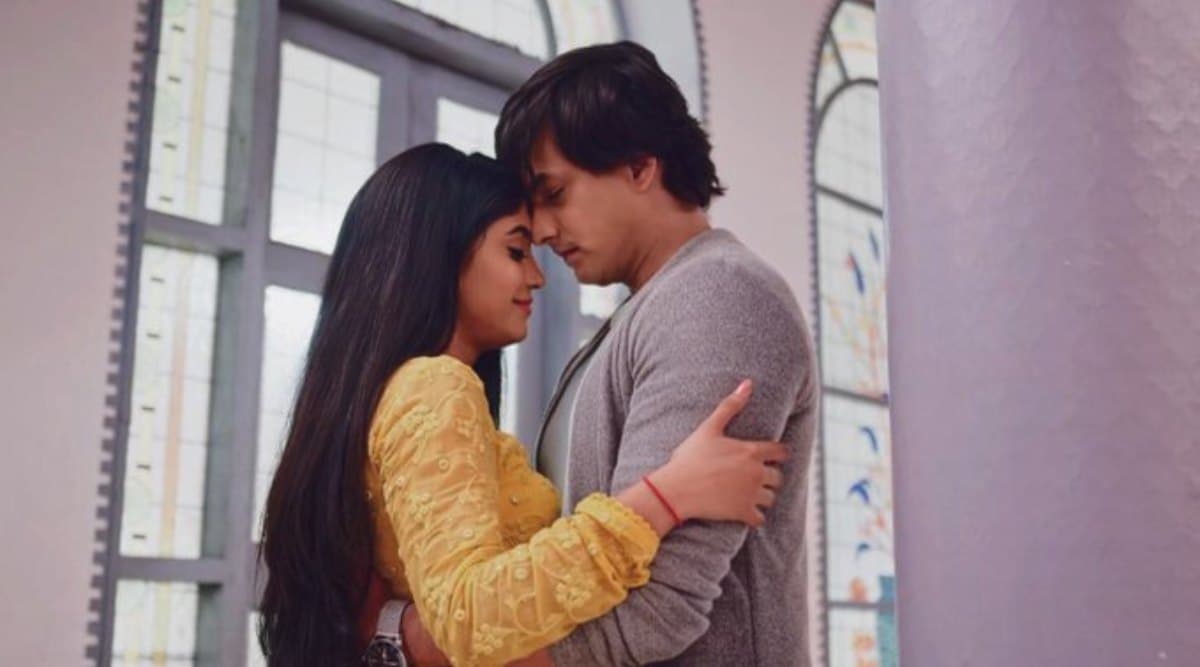 In yesterday's episode of Yeh Rishta Kya Kehlata Hai, the Goenka's celebrate Kartik and Naira's Gruhapravesh while Luv and Kush are in for a shock when they see Trisha. The family spends time together around a bonfire. In tonight's episode, we see Kartik (Mohsin Khan) and Naira (Shivangi Joshi) reach their honeymoon suit. Kartik is surprised to see the room decorated so well for their honeymoon night. Both remember Kairav and think that if Kairav were here, he would have loved to see the rooms full of balloons and chocolates. Naira goes to change her clothes. Yeh Rishta Kya Kehlata Hai January 21, 2020 Written Update Full Episode: The Goenkas Welcome Newlyweds Naira and Kartik Home.
Meanwhile, in the Goenka Mansion, all the family are enjoying together around the bonfire. Kartik sees Naira and is unable to control his feelings. Kartik hugs Naira and gets romantic. Naira tells Kartik they should talk with Kairav once. Kartik calls Swarna and enquires about Kairav. Swarna tells them he is enjoying with them and they should enjoy their honeymoon and not think about Kairav. When Swarna comes into the drawing-room, she is shocked to see Kairav throwing tantrums and demanding to meet Naira. All try to pacify him and make him understand that he should sleep with Vansh today.
Naira and Kartik get intimate with each other and dance together (Piya Bawari track plays in the background). Suddenly Naira gets a call from the Goenka House. Kairav tells Naira to come home soon. Kartik tells Naira to change so that they can leave for the Goenka House. Yeh Rishta Kya Kehlata Hai January 20, 2020 Written Update Full Episode: With Kartik Running Late, Naira Ends Up Being on the Wedding Mandap With Another Man.
Kartik and Naira come home and sees Kairav sleeping with Swarna. They pick Kairav up and take him to their room. Naira tells Kartik that she will fulfil her duties; she will be a good mother as well as a good wife. Kartik also says that they have to manage both and be happy in life. Luv and Kush are upset as Kartik and Naira are back and think they have to do the work today itself. Luv and Kush go to Trisha's room and apologies for their behaviour. Naira sees Luv and Kush going towards Trisha's room and follows them. Naira asks Luv and Kush why they are asking forgiveness from Trisha. Trisha narrates Naira what all happened. Just then Kartik comes in and berates Luv and Kush.
Luv and Kush try to make false stories about the incidence. Kartik asks Trisha are they telling the truth. Trisha thinks that why to spoil Naira and Kartik's honeymoon night and agrees with the lie which Luv and Kush tell.
Next day morning, Kartik gets romantic with Naira. Naira tells him to get up as they have to go to Kairav's school. Suhasini prays in front of God for the happiness of her children. Naira gets ready for the PTM in Kairav's school. Naira tells Kartik to get ready. Kairav tells Naira that he will go and meet Luv and Kush. Vansh and Kairav go to Luv ad Khush's room and tries to wake them up, but they do not get up. Trisha is practising her dance which disturbs Luv and Khush's sleep. Luv goes to Trisha's room and tells her to low the sound of the music as all are getting disturbed.
Kartik gets ready and comes into the room. Naira gets naughty with him. They get romantic with each other ("Udi Udi" track plays in the background)
In the precap, Kairav sees smoke and goes to see what it is and finds Luv and Khush standing there. Kartik and Naira come to know from the house help that they found a cigarette packet in Luv's pocket.