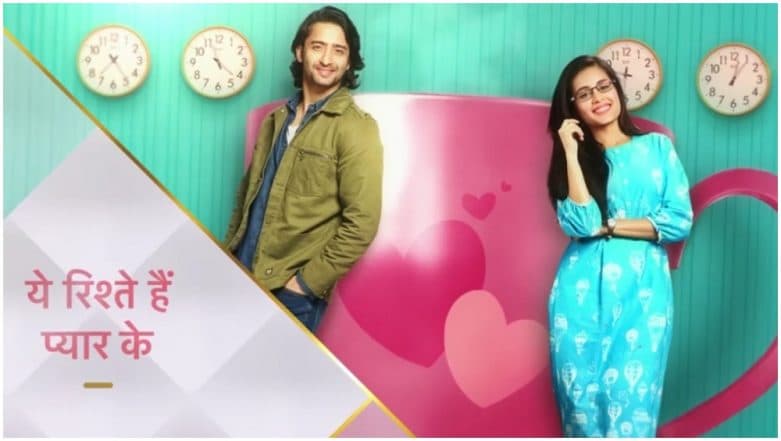 In yesterday's episode of Yeh Rishtey Hain Pyaar Ke we Abir is baffled by Mishti's behavior while Yashpal tells Parul not to reveal the truth. Later Mishti is shocked by Meenakshi's outrageous demand. Tonight's episode starts with Mishti (Rhea Sharma) tells Meenakshi that the kundali is only paper and not Kuhu's luck. Meenakshi tells her that she will spoil Kuhu's life if she does not do as she says. Meenakshi says that Kuhu will get punishment for her deeds. Mishti requests her that she should not do anything as Kuhu is a nice girl and she will take care of Kunal. Meenakshi tells that her problem is Mishti and that she will not allow Abir to marry her. Meenakshi orders Misti that she will have to reveal everyone and become a villain in front of all so that Abir (Shaheer Sheikh) will hate and forget her. Meenakshi warns Mishti if she will not do as she says then she will not allow Kunal marry Kuhu. Mishti leaves the room.
On the other side, Kunal tells Kuhu that it is good that Mishti went earlier and there was no problem in the sangeet. Kuhu hugs Kunal and tells that he has supported her every time she needs him and tells thanks to him. Kuhu tells from the day Mishti has come in her life nothing is good but now everything is going well and prays God that this should remain like these. Kuhu says she cannot tell about her feelings like others but she really loves him and cannot live without him. Kunal says that whatever she is doing is for her family. Kuhu is happy as Kunal understands her. Just then Varsha comes there and asks Kuhu did she talk about her kundali, Kuhu lies and says she has told Kunal the truth. Yeh Rishtey Hain Pyaar Ke August 5, 2019 Written Update Full Episode: Will Meenakshi Succeed in Breaking Mishti and Abir's Relationship by Using Kuhu's Secret?
Meanwhile, Mishti comes and tells Varsha that she has found the kundali. Varsha is happy as she got it before anyone came to know about it. Later, in the night Mishti dreams about Meenakshi and what all she said she will do if she does not do as she tells her to do. Mishti gets scared and gets up. Varsha comes and tells her why is she scared and tells that now that everything is going good she does not have to worry. Varsha brings a gift for Mishti and tells her to get ready for the hen party of Kuhu. Mishti thinks that Abir can solve this problem and then Meenakshi will not be able to do anything.
On the other side, in the Maheshwari's all are getting ready for the bachelor's party. Kunal sees them happy and thinks he is betraying them all along with Kuhu. Kunal thinks he has to do this for Abir and his happiness. Meenakshi comes and tells Nidhi to come with them to the temple but Nidhi wishes to be at the party. Abir and all tell Meenakshi to allow Nidhi to stay at the party. Meenakshi tells her to enjoy with them and leaves.
Later when Parul and Meenakshi are going to the temple, Parul asks Meenakshi about Kunal's future and tell that Kuhu is the right girl for Kunal and that they love each other and asks if she will break this alliance too.Yeh Rishtey Hain Pyaar Ke August 2, 2019, Written Update Full Episode: Mishti Refuses to Reveal her Feelings for Abir to Save Kuhu and Kunal's Marriage.
In the precap, Maheswari's enjoy the hen party of Kuhu, whereas the Rajvansh enjoys the bachelor party of Kunal.