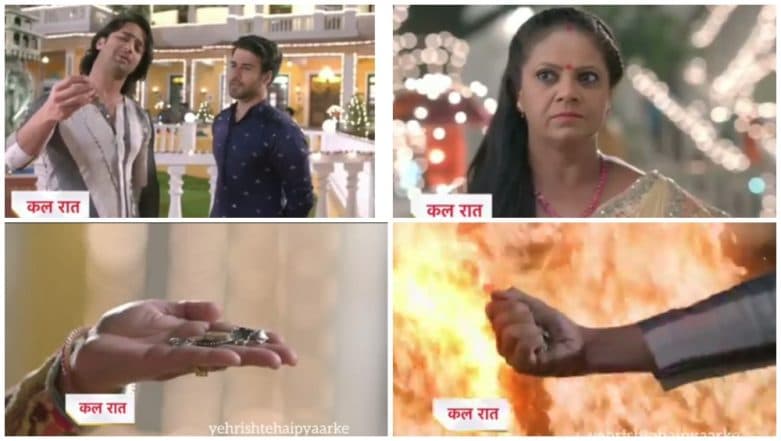 Today's episode of Yeh Rishtey Hain Pyaar Ke starts with Kuhu telling Varsha about Ketki and how she left her home and she made her understand and sent her back home. Varsha praises her as she did the right thing. Rajshree is tensed as to where has Mishti (Rhea Sharma) gone.  Just then Rajshree gets a call and gets happy thinking it is Mishti, but comes to know it is Naman, Mishti's father. There Meenakshi is tensed as Abir (Shaheer Sheikh) has left home again. Dadaji is telling her that he will come after roaming here and there and she should not worry. Dadaji tells her to do something so that he doesn't go away anywhere and ask did she think about his marriage. Meenakshi says she wants Kunal (Ritvik Arora) and Abir to get married together. Yeh Rishtey Hain Pyaar Ke March 20, 2019 Written Update Full Episode: Abir's Mother Plans for His Wedding Just When He Meets Mishti 
There Rajshree is shocked to hear Naman's voice and tells him she will send him the money and he should not call again. Naman says that he wants more money or else he will take his daughter with him and keeps the phone. Mishti sees Naman and gets emotional seeing him. Naman acts as if he really misses her and wants her back and hugs her and says he missed her very much. Mishti asks why has he come back after so many years and says now it is too late. They both argue with each other, Mishti says that he missed him but now they are her family and goes from there.
There Abir comes tensed as to what happened to Kunal and sees Meenakshi who is trying to remove her slippers and helps her. They both go inside together to see what happened to Kunal but he is fine. Meenakshi says that she never left anyone and went, Abir taunts her. Meenakshi gets irritated and goes from there. Meanwhile, Rajshree is tensed as for how long she will keep on giving money to Naman and if Mishti comes to know then. Just then Mishti comes and hugs her and calls out everyone, all come and hug her and are happy to see her. Kuhu tells everyone to get ready for the performance they are going to show it. Shaheer Sheikh on Nakuul Mehta's Good Wishes for Yeh Rishtey Hain Pyaar Ke: It Won't Be Easy to Match Up to the Standards Set by Team Ishqbaaz
Dadaji is asking Abir why he fights with Meenakshi all the time. Abir says he is always with right and Meenakshi wants everything her way and that he does not like it. Dadaji tries to tell him that he should get married, but Abir says he does not want to marry now. There Mishki and Kuhu perform (Piya piya o piya piya track is played in the background), all are happy to see them dance together and enjoy. Varsha becomes emotional seeing them dance, Rajshree say that it is time that Mishti and Kuhu also get married and clicks a photo of them. Just then Naman sends a photo of Mishti and his, Rajshree gets tensed seeing it.
Abir asks Kunal, why should they enjoy as Ketki got manipulated and got ready for the marriage, but Kunal says that she herself agreed and Meenakshi did not do anything. Seeing them together Meenakshi is happy and is scared because of Abir's nature. Just then Dadaji comes and says that her nature is same as Abir. Meenakshi says that if she gets good girls then she promises that she will get both married in the same mandap.
 In the precap, Kunal asks Abir does he know the girl who he met in the fort.