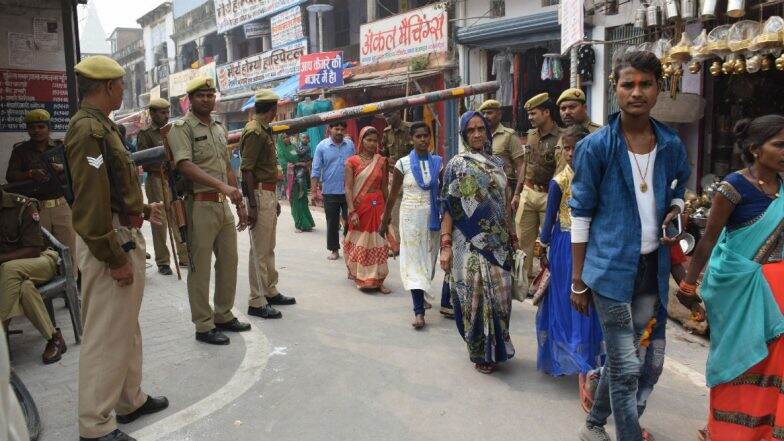 New Delhi, November 7: As the Supreme Court is expected to deliver its judgment in the contentious Babri Masjid-Ram Janmabhoomi title dispute case next week, the central government have sent an advisory to all states and union territories. The advisory, issued by the Ministry of Home Affairs, asked all states and union territories to stay alert and maintain law and order as the verdict in the Ayodhya case is set to be announced by the apex court in few days. Babri Masjid-Ram Janmabhoomi Case Verdict: Jamiat Ulema-e-Hind Appeals to Muslims And Hindus to Respect Supreme Court Judgment.
"We have sent an advisory to all States, asking them to keep a watch on law and order as the verdict is announced," a senior government official was quoted by The Hindu as saying. The Centre has also sent around 4,000 personnel of the Central Armed Police Forces to Ayodhya where the disputed site is located. All CAPF companies would reach Ayodhya on November 11 and will be deployed till November 18. A total of 13 CRPF companies have already been sent to Ayodhya. Ayodhya Case: Deliver Verdict That Reflects Constitutional Values, Muslim Parties Tell Supreme Court.
The temple town has been turned into a virtual fortress to thwart any untoward incident posing a threat to the law and order situation. The Centre has cautioned the Uttar Pradesh government, led by Chief Minister Yogi Adityanath, to ensure all security preparedness in Ayodhya. The state government has been asked to keep tabs on rumours on social networking sites and through SMS when the apex court would announce its verdict.
In a four-page directive, the Uttar Pradesh government on October 31 had also issued strict guidelines disallowing people from posting offensive posts on social media on deities. The directive will be in force till December 28, prohibits people from posting defamatory remarks on social media platforms like Facebook, WhatsApp, Twitter. A five-judge Supreme Court bench had heard the Ayodhya case on a day-to-day basis for 40 days and reserved its verdict on October 16.
In 2010, a three-judge bench of the Allahabad High Court verdict equally distributed the 2.77 acres in question between Ram Lalla, Nirmohi Akhara and Sunni Waqf Board.