New Delhi, Sept 12: The Supreme Court on Wednesday extended the house arrest of five activists, charged with links to the banned CPI(Maoist), till September 17. The activists were held by the Pune police on August 28, after conducting simultaneous raids in six cities.
The bench of Chief Justice Dipak Misra and AM Khanwilkar, who were hearing historian Romila Thapar's plea against their arrest today, decided to adjourn the hearing till September 17 as defence counsel Abhishek Manu Singhvi, was busy in another court.
The five accused, chargesheeted by the Pune police, are: Telugu poet Varavara Rao, activists Vernon Gonzalves and Arun Ferreira, lawyer Sudha Bhardwaj and civil liberties activist Gautam Navalakha.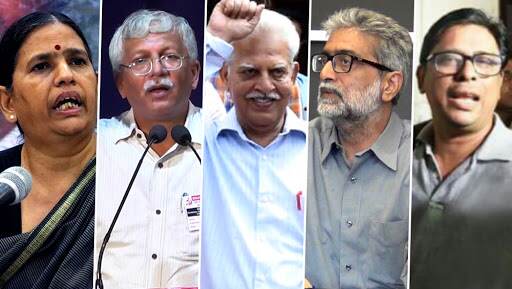 The Pune police have accused them of conspiring the riots which followed the Elgar Parishad - an event held in Bhima Koregaon on December 31 last year to celebrate the 220th anniversary of British Army's Mahar regiment's victory over the Peshwas.
Apart from their alleged role in the Bhima Koregaon riots, the accused have also been charged by the Pune police of plotting to assassinate Prime Minister Narendra Modi.
A section of the civil society rose in protest following their arrests, accusing the Pune police of cracking down on activists who are critical of the ruling BJP at the Centre and in the state.
Refuting the charge, Maharashtra ADG Param Bir Singh said the raids conducted on August 28 led to the recovery of incriminating material which suggests that the said activists were ideologically inclined towards "waging a war against state".
The police further claimed that the activists were part of a plot to assassinate the Prime Minister, in the "same manner in which (ex-PM) Rajiv Gandhi was killed".