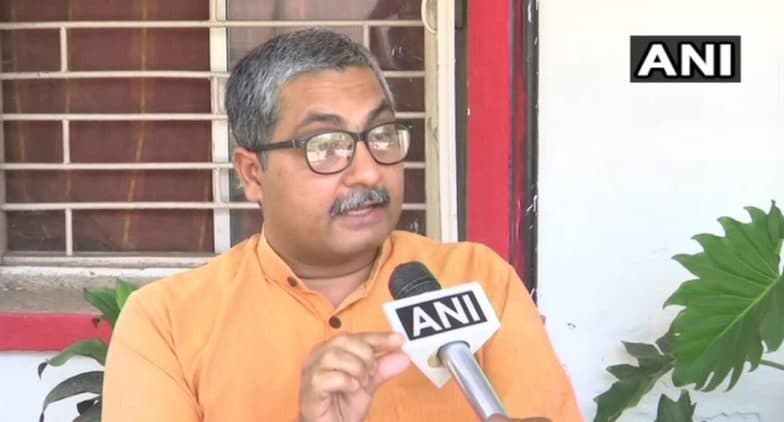 Bhopal, May 17: The Bharatiya Janata Party (BJP) on Friday suspended its spokesperson Anil Saumitra over his social media post calling Mahatma Gandhi father of Pakistan. Saumitra was suspended from the primary membership of the party. In a Facebook post, Saumitra said that Mahatma Gandhi is a father of nation but for Pakistan. He added that crores of people were born in the country, though some were useful and others were useless. Amit Shah Says Pro-Godse Remarks of Anant Hegde, Pragya Thakur, Nalin Kateel 'Taken Seriously', BJP's Disciplinary Committee to Decide.
Madhya Pradesh BJP unit chief Rakesh Singh made an investigation into the matter. Saumitra, the chief of the BJP media relations department, has been asked to reply within seven days. Earlier today, BJP chief Amit Shah distanced himself from party leaders statement on Nathuram Godse. He said that the statement was their personal opinion and a disciplinary committee will submit their reply within 10 days.  Nathuram Godse 'Patriot' Row: Anantkumar Hegde Defends Mahatma Gandhi's Assassin on Twitter, Later Claims 'Account Hacked'.
Tweet by ANI:
Madhya Pradesh: BJP leader Anil Saumitra suspended from primary membership of the party over his social media post calling Mahatma Gandhi father of Pakistan. The party asks him to reply in 7 days. pic.twitter.com/w0MazFWfCZ

— ANI (@ANI) May 17, 2019
Earlier, BJP leaders Anantkumar Hegde, Pragya Thakur and Nalin Kateel had made pro-Godse remarks. Kateel, a BJP MP from Karnakata compared Godse with former Prime Minister Rajiv Gandhi. Union Minister Anant Kumar Hegde tweeted "seven decades later, the condemned were being heard". Both the leaders have deleted the tweets. Hegde, however, claimed that his twitter handle had been hacked. 'Godse Killed 1, Kasab Killed 72, Rajiv Gandhi Killed 17,000': BJP MP Nalin Kumar Kateel Stokes Row.
Earlier, BJP Bhopal candidate Sadhvi Pragya Singh Thakur also said that Nathuram Godse was a patriot and will remain so. After a political storm broke out, Thakur apologised and withdrew her comments. The controversy was started by Kamal Haasan who said that "independent India's first extremist was a Hindu", referring to Mahatma Gandhi's assassin Nathuram Godse.