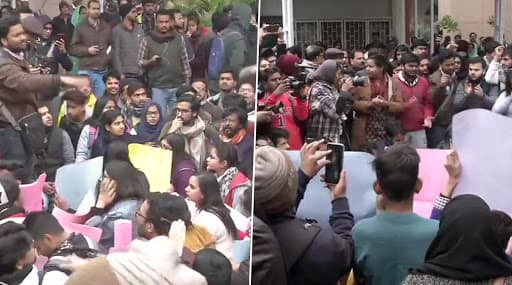 New Delhi, January 13: Following the informal meet with students, Jamia Millia Islamia on Monday announced to cancel the ongoing semester exams stands cancelled till further notice. It also said that the new schedule would be declared later. The decision was taken by the administration hours after varsity Vice Chancellor Najma Akhtar met with the agitating students and heard their concerns.
Informing about the latest development, the JMI administration said, as quoted by news agency ANI, "On the demand of the protesting students the Vice-Chancellor in consultation with the Deans, HoDs and other officials announced that the ongoing semester exams stands cancelled till further notice. New schedule will be declared later." Jamia Millia Islamia Vice Chancellor Najma Akhtar Confronted by Angry Students Over Delhi Police Crackdown During Anti-CAA Protests.
Earlier in the day, the students protested outside JMI VC's office after which Akhtar met with them. The students were demanding rescheduling of exam dates, registration of FIR against Police and ensuring safety to students. To this, Akhtar sought some time from the students.
She had informed, Delhi Police entered the campus without permission and the process of filing an FIR against Delhi Police will begin from tomorrow," she added. "We want to know the exact date when you will file an FIR against Delhi police. Till that time, postpone exams," a protesting student told the VC. "Don't ask for dates. If I have said it will be done, it will be," Akhtar replied.
It is to be known that on December 15, Delhi Police intruded into the campus and allegedly assaulted students after protests against the Citizenship Amendment Act had turned violent.