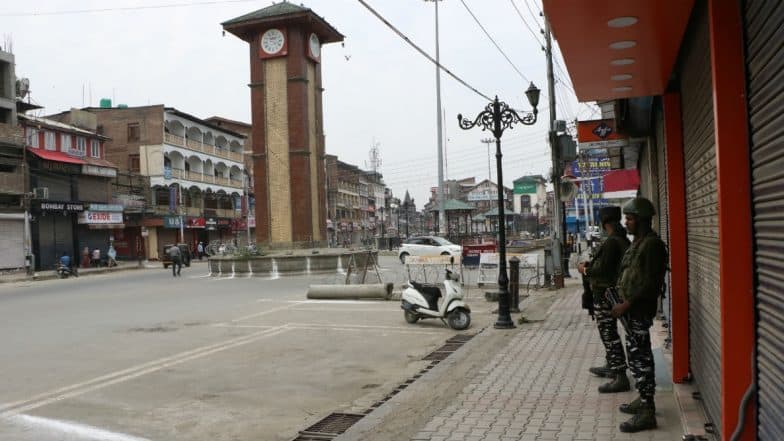 Srinagar, November 6: Three months after the abrogation of certain provisions of Article 370, the government is mulling restarting SMS services in Kashmir valley. SMS services were restored in the Kashmir region along with the resumption of mobile services last month but suspended within the next few hours itself. The government is considering restarting SMS services after Union Home Minister Amit Shah held a review meeting on Jammu and Kashmir on Tuesday. UN Human Rights Experts Urge India to End Communication Shutdown in Jammu And Kashmir.
Union Home Secretary, as well as Jammu and Kashmir Chief Secretary and Director General of Police, were present at the meeting. Besides SMS services, the government also plans the selective restoration of broadband connections in Kashmir valley, particularly in government offices, educational institutions and hotels. The resumption of broadband connections is aimed at facilitating the state administration, tourists and visitors as well as students. Mobile internet services, however, will remain suspended for now. NSA Ajit Doval on Article 370 Repeal: Majority of Kashmir Supporting Move, 92.5% of J&K Freed of Restrictions.
"SMS services will be the first indicator of (opening of) internet," a senior officer in J&K administration was quoted by TOI as saying. All communication services were suspended across Jammu and Kashmir on August 5 when the Centre moved to withdraw the state's special status granted under Article 370. While land-line services were restored in Kashmir in early September, mobiles started ringing there only on October 14. Jammu And Kashmir Under Siege: Security Lockdown, Communication Blackout And UT Status Leave Kashmiris With No Autonomy.
At present, broadband connections and SMS services are 100 percent open in Jammu region. As far as the release of mainstream politicians is concerned, the Centre has not made its mind yet. Former Chief Ministers Farooq Abdullah, Omar Abdullah and Mehbooba Mufti are under house arrest. Meanwhile, on Tuesday, a newspaper, which has challenged these restrictions in the valley, said that notifications and orders to shut telephony and internet services were "illegal and unconstitutional".
Advocate Vrinda Grover, representing Executive Editor of Kashmir Times Anuradha Bhasin, who has challenged these restrictions in the Valley, said even after 90 days, since the revocation of Article 370, communication services -- data, internet, pre-paid mobiles and SMS -- were not operational and were impacting the workings of the media.