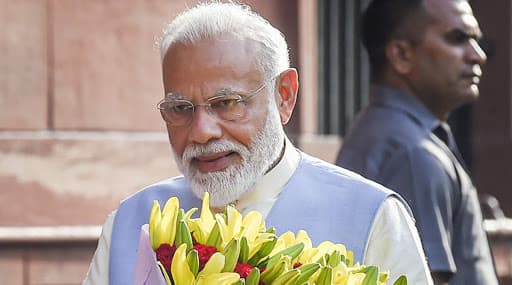 New Delhi, September 25: Pakistan-based terror organisation Jaish-e-Mohammed (JeM) has issued death threat to Prime Minister Narendra Modi, Union Home Minister Amit Shah and National Security Advisor (NSA) Ajit Doval. After the Bureau of Civil Aviation Security received a threat letter, Intelligence agencies are put on a high alert. According to the letter, PM Modi, Shah and Doval are on the hit-list of the terror organisation to avenge the abrogation of Article 370 in Jammu and Kashmir. Narendra Modi Gets Threats; Security Agencies on Toes After Anonymous Letter Threatens Attack on PM.
In the letter, JeM also threatened to attack 30 cities, including Jammu, Pathankot, Amritsar, Jaipur and Gandhinagar, reported India Today. The terror organisation is also planning to target four Indian airports. According to the report, JeM is preparing a squad to target PM Modi. Earlier reports also surfaced that Hafiz Saeed-led Lashkar-e-Taiba (LeT) is planning to carry out terror attack in Pm Modi's Lok Sabha constituency Varanasi. Narendra Modi Gets Death Threat, Delhi Police Commissioner Receives E-Mail Threatening Assassination of PM.
Meanwhile, the Indian Air Force (IAF) bases in Srinagar, Awantipora, Jammu, Pathankot and Hindon have been put on a high alert at orange level after intelligence agencies warned that eight to ten JeM terrorists would try to carry out a suicide attack against Air Force bases in and around Jammu and Kashmir. Senior officers are reviewing security arrangements 24x7 to tackle the threat. The alert has been issued after security agencies monitored movements of Jaish terrorists.
A similar alert was also issued in May this year at Srinagar, and Awantipora airbase stations in Jammu and Kashmir after hand-drawn maps of these airbases were recovered from terrorists. The Srinagar airbase was at the forefront when the Pakistani fighter jets violated the Indian airspace on February 27.