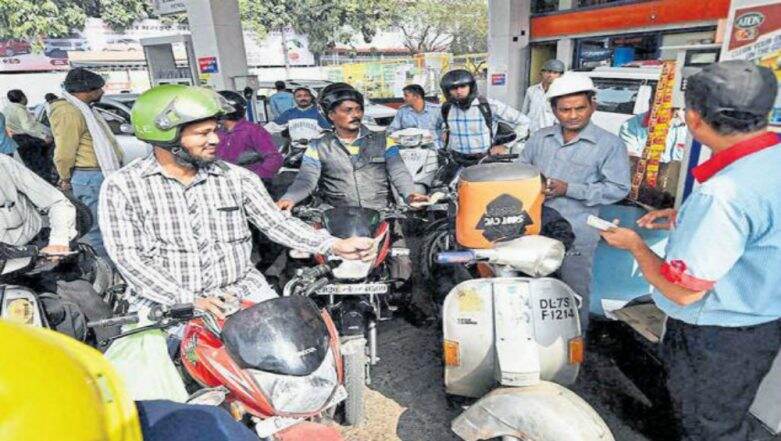 New Delhi, May 26: Petrol and diesel prices surged for the fourth consecutive since the announcement of Lok Sabha election results 2019. Across the four metro cities, petrol rose by 13-14 paise a litre, whereas, diesel has been hiked by 7-8 paise. Following the daily revision, per litre of petrol and diesel will be charged at Rs 71.67 and Rs 71.53 in the national capital territory.
In Kolkata, petrol prices have been raised to Rs 73.73 and diesel to Rs 68.33. In Mumbai, the two fuels is being charged at Rs 77.28 and Rs 69.75, respectively. In Chennai, motorists will have to pay Rs 74.39 a litre for petrol today and Rs 70.45 for diesel. Petrol, Diesel Prices Upswing Likely as India Ends Crude Oil Import
Experts claim that the oil marketing companies will be on on price-hike spree for the next few days to recover the losses incurred over the last two months. As seen in the past few elections, the oil companies refrain from altering the fuel prices while the polls are underway.
Reports had on April 24 claimed that a definite post-election price hike was on cards as the waiver granted to India on oil-imports from Iran was ended by the United States.
With Tehran no longer supplying fuel to New Delhi, the domestic prices were bound to go up as the government would have to procure additional brent crude from either the Saudi Arabia or the United States -- both levying a higher charge as compared to Iran.
Iran's Foreign Minister Javad Zarif had visited his Indian counterpart Sushma Swaraj earlier this month to discuss the US sanctions. Swaraj conveyed to him that a decision on oil imports from Tehran would be finalised after the electoral process is over and the new government is formed.