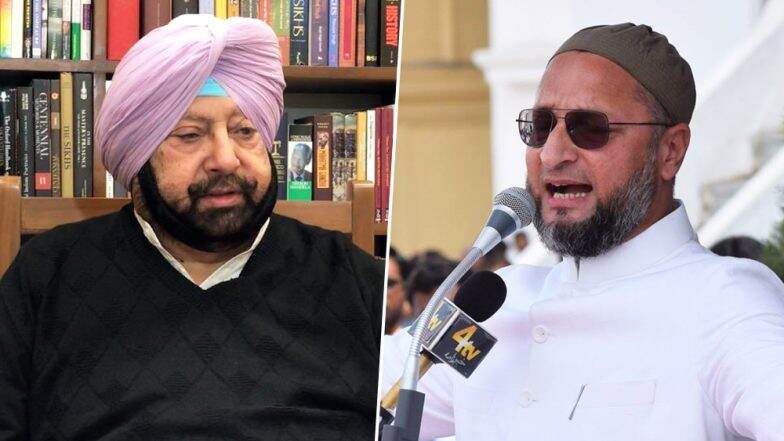 Ever since the Balakot air strike by the Indian Air Force to target Jaish camps in Pakistan was conducted, politics in India have been on an all-time high. While the strikes carried out by the IAF were pre-emptive and were targetted at terror camps, there has been chest thumping by the ruling government and questioning by the Opposition parties. But in all of this, surprisingly, two politicians, both from different parties in the Opposition, have come out as the only sane voices - Punjab Chief Minister and Congress leader Captain Amarinder Singh and AIMIM chief Asaduddin Owaisi. Lok Sabha Elections 2019: Why Captain Amarinder Singh Can be The Next Prime Minister of India.
On February 14, a Jaish-e-Mohammed (JeM) suicide bomber attacked a CRPF cavalcade in Jammu and Kashmir's Pulwama. At least 40 CRPF jawans were martyred in the terror attack claimed by JeM. The day it happened, there was condemnation from every political party. Congress President Rahul Gandhi said that they stood with the government and would not politicise. But that status quo remained for just about three days. Asaduddin Owaisi Welcomes Lok Sabha Elections 2019 During Ramzan, Says 'Unnecessary Controversy Over Poll Dates'.
Moving on, what followed the Pulwama attack was India taking it up with Pakistan and demanding action against JeM chief Maulana Masood Azhar even as the latter demanded proof. On February 26, the Indian Air Force (IAF) carried out a pre-emptive strike in Pakistan's Balakot, targeting JeM camps and inflicting "several casualties". Neither the government, nor the IAF gave out the number of casualties inflicted in the strike. But media houses and politicians gave out numbers like they had themselves gone to the site.
On the other hand, there were those like BJP President Amit Shah, who conveniently claimed that 250 terrorists were killed in the IAF strike and then those in the Opposition who raised doubts over whether there were any casualties inflicted at all. In no time, the claim game blew into a political pre-election battle.
Then came February 27, when Pakistan Air Force's F-16s tried to enter into the Indian territory and the Indian Air Force didn't let them. In this exchange, IAF's MiG-21 Bison shot down one of the Pakistani F-16s. The MiG-21 went down minutes later, but the pilot, Wing Commander Abhinandan Varthaman landed on the other side of the border and was taken into custody by Pakistan. As videos of him being taken into captivity were released by Pakistan, the country broke the Geneva Convention and released him two days later. And yet again, in no time, while the ruling party claimed credit for the pilot's return, some in the Opposition even gave credit to Pakistan PM Imran Khan.
In all these days, it was only Owaisi and Captain Singh, who gave out statements that were absolutely apolitical, neutral and sane. In fact, at one point Captain Singh even sought permission from PM Narendra Modi to go to Wagah-Attari Border to receive Wing Commander Varthaman. This, even when several people pointed out that since he is the Chief Minister of Punjab, he could do it in his own individual capacity. Yet, Captain Singh, followed proper protocol and sought the PM's permission.
Dear @narendramodi ji , I'm touring the border areas of Punjab & I'm presently in Amritsar. Came to know that @pid_gov has decided to release #AbhinandanVartaman from Wagha. It will be a honour for me to go and receive him, as he and his father are alumnus of the NDA as I am.

— Capt.Amarinder Singh (@capt_amarinder) February 28, 2019
Here's a look at the statements made by Owaisi and Captain Singh on the events that unfolded over the past few days:
Pulwama Attack
Asaduddin Owaisi: "What happened in Pulwama is nothing less than a massacre and deserves our fullest condemnation. My sympathies are with the families of those brave personnel who lost their lives in this attack."
What happened in #Pulwama is nothing less than a massacre and deserves our fullest condemnation. My sympathies are with the families of those brave personnel who lost their lives in this attack.

— Asaduddin Owaisi (@asadowaisi) February 14, 2019
Captain Amarinder Singh: "Enough is enough. Forty-one young lives of India have been destroyed in this one attack. For what? To please somebody? To please their bosses in Pakistan? They think it's a joke that they can at any point come into India and kill our soldiers just because they want to please their bosses in Pakistan? Do they have no shame?"
My speech in the Punjab Vidhan Sabha today on the #PulwamaTerrorAttack. pic.twitter.com/K5J594sQec

— Capt.Amarinder Singh (@capt_amarinder) February 15, 2019
Balakot IAF strike
Asaduddin Owaisi: "We welcome this. It's the right step. We stand by the government," Owaisi said as reported by PTI. "If a country is not able to stop non-state actors, then another country which is the target of terrorist violence has the right to act in self-defence," he said. Owaisi said India should now go after Pakistani terrorist leaders Hafiz Saeed and Masood Azhar. "They are satans and their outfits are also evil."
Captain Amarinder Singh: "Whether it was one terrorist killed or 100, the message had gone out loud and clear – that India will not let the killing of its innocent soldiers and citizens go unpunished."
Irrespective of whatever controversies both the leaders have been surrounded with, over the years, both Owaisi and Captain Singh have stayed away from taking sides, blaming anyone or taking credit for anything when it came to talking about the defence forces and national security. In times like these, where politics is loud and in-your-face on the ground and more so on social media, these two political leaders are leading by example.
(Disclaimer: The views expressed here are those of the author and do not necessarily represent or reflect the views of LatestLY.)